Montreal's new mixed-use building preserves historical roots
by arslan_ahmed | August 17, 2022 11:36 am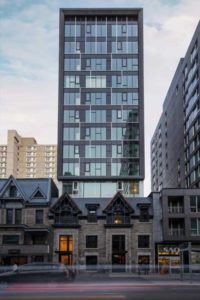 Montreal's new mixed-use building combines its distinctive historic Greystone facade with a contemporary tower of 13 residential floors, to blend into the surrounding historical neighbourhood.
Four Quebec-based firms Placements BEAM Sainte-Catherine, the developer, Demonfort, the general contractor, Gestion Immobilière Cogeim, the property manager, and real estate fund the Fonds immobilier de solidarité FTQ are the project partners of this boutique apartment called Maison Haute Ste-Catherine. It is situated at 2190 Rue Ste-Catherine Ouest in Shaughnessy Village, a neighbourhood in Montréal's borough of Ville-Marie.
With just 5 units per floor and 53 apartments in total, Maison Haute is built on the principle of maintaining privacy. The 226-m2 (2,437-sf) ground floor will be occupied by a commercial establishment, in hopes of attracting customers to this neighbourhood laying in the heart of bustling downtown Montréal.
Located near Alexis Nihon shopping centre, grocery stores, an SAQ store, restaurants, bars, universities, the Montréal General Hospital, Atwater metro station and several bus lines, the building's location aims to meet the demands of people who would rather access the city on foot. The building also offers indoor bicycle racks, storage space, a rooftop terrace with a view of Mount Royal, an exercise room and co-working space.
"The building blends in perfectly with the surroundings and neighbourhood. It is a true architectural gem as we have preserved its historic facade on the first floor, to which we added a modern touch with the 13 residential floors above. We also maximized natural lighting in the units for greater occupant comfort."
Endnotes:
[Image]: https://www.constructioncanada.net/wp-content/uploads/2022/08/AA_MontrealBuilding.jpg
Source URL: https://www.constructioncanada.net/montreals-new-mixed-use-building-preserves-historical-roots/
---