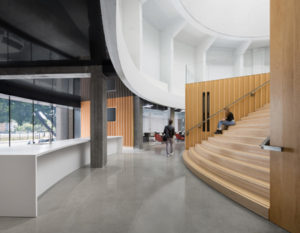 Business incubator Centech's new premises were inaugurated in the former Dow Planetarium, Montréal, last month.
Closed since 2011 and transferred to the École de technologie supérieure (ÉTS) by the City of Montréal, the conversion project by Menkès Shooner Dagenais LeTourneux Architectes aimed to rehabilitate the iconic building in the heart of the Quartier de l'Innovation.
To create synergies between the university, ÉTS, business community, and citizens, the Planetarium commissioned the typology of spaces, such as areas to encourage encounters, collaboration, and reflection, spaces of social diversity, and exchange platforms for sharing knowledge.
The main challenge for the architects was to find a way to bring light into the building designed and intended to be both obscure and opaque while preserving the memory and the nature of the place.
They developed the offices around the concepts of revolution and the circular shape, imposed by the intrinsic nature of the building. The design for Centech's office was inspired by the movements of the universe and ancient instruments (e.g. astrolabe).
From the gears that recall walls composed of a juxtaposition of vertical slats to the concentric circles superimposed in the plan, everything in the space is about mechanical rotation and spinning.
The building's centre is an open, circular space accessible on all sides. The mechanics of the rest of the building are entirely articulated around this central space. Similar to the principle of watchmaking and the cogwheel, a concentric circulation path leads to a café, meeting space, and an ideation room.