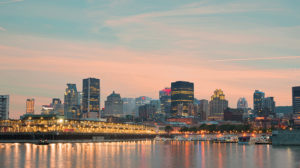 The federal and Québec governments have come to an agreement under the Rapid Housing Initiative (RHI) between Canada Mortgage and Housing Corporation (CMHC) and the City of Montréal. As part of this agreement, $56.8 million in federal funding is being provided to the City of Montréal to support the rapid completion of 12 projects on its territory, representing 263 housing units.
In addition to supporting the agreement between CMHC and the City of Montréal, the Québec government is committed to funding the rent supplement for certain projects included in this announcement for 20 years. With this assistance, eligible renters will spend only 25 per cent of their income on housing.
The COVID-19 crisis has shown the availability of affordable housing is essential not only to the health and well-being of vulnerable households, but also to the economic recovery of cities across Canada. Many cities are facing the devastating impacts of increasing homelessness and housing needs, a press release from CMHC said.
The housing projects funded will therefore target those who are most vulnerable. The support may cover the costs of land acquisition, housing construction, or conversion or rehabilitation of existing buildings.
Highlights
Projects receiving investments under RHI will target clients with special housing needs. These include:
women and children who are victims of domestic or family violence;
seniors;
Indigenous populations;
people with mental health or addiction issues;
people who are homeless or at risk of homelessness; and
persons with disabilities, etc.
Additionally, $1 billion will be invested through RHI to create 3000 new permanent affordable housing units across Canada to address urgent needs. Under the Major Cities Stream, $500 million will be provided to municipalities that have been selected based on the large number of renters and people experiencing homelessness in their jurisdictions.
"The pandemic has resulted in a considerable increase in the number of people experiencing homelessness. It has also further isolated the most vulnerable in many neighbourhoods," said Valérie Plante, mayor of Montréal. "These investments will allow for a large-scale, rapid response to the urgent needs of people experiencing homelessness or high housing insecurity, many of whom are not covered by the usual housing programs. More than ever, it is crucial that every citizen have a roof over their head."