Montréal university's terrace repurposed as outdoor salon
January 4, 2019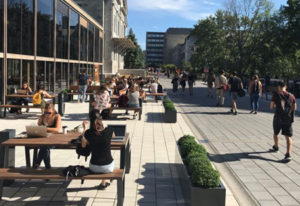 Located on the Mount Royal Heritage Site[2], McGill University[3] in downtown Montréal transformed its Leacock building to meet a new vision focusing on sustainable mobility, increased biodiversity, and innovation. In 2010, the campus was converted to become completely pedestrianized. The building's terrace is part of a huge rehabilitation masterplan for the downtown campus.
To re-waterproof the concrete slab at the street level of the building, the university completely demolished the street located on this terrace. This required reorganization of the space. To better segregate the outdoor lounge from the ventilation shafts, the bicycle parking space along the curtain wall was transferred across the street. The width of the existing road was reduced by half. The space released along the building was converted into an outdoor salon with resting, gathering, and working spaces.
All outdoor furniture was designed by the university, with the collaboration of Arcadia[4]. The variety of layout of the street furniture allows a better appropriation of the space permitting a more convivial and interactive work and social environment. Charging stations are hidden adjacent to the furniture on the Leacock Terrace to provide USB ports and electrical outlets for the power and charging of student devices, even in winter.
Reconfiguration to the stair access to the two doors of the arts building was also required. In additional to the heritage considerations, a new access was adapted to the street level by provision of the ramp to one of the two buildings. Access to the other building is via an existing internal elevator thus providing universal access in a cost-effective manner. This has restored access to the art building which has been absent since the construction of the Leacock building in the 1960s.
Inspired by historical photos, the landscape architect recreated the character prevailing before the construction of the Leacock building in 1964. The entrances to the arts buildings were redrawn, with the lead architect from DFS[5], to rediscover the spirit in which they were originally designed.
As it renovates and refurbishes its campus, the university must ensure the protection and enhancement of Mount Royal under an agreement with the city of Montréal and the Quebec Ministry of Culture and Communications. New challenges for the future will include universal access, energy efficiency, low-cost maintenance, environmental awareness, and the enhancement and preservation of heritage.
Endnotes:
[Image]: https://www.constructioncanada.net/wp-content/uploads/2019/01/Opener-3.jpg
Mount Royal Heritage Site: http://ville.montreal.qc.ca/culture/en/mount-royal-heritage-site
McGill University: https://www.mcgill.ca/
Arcadia: http://www.arcadiacontract.com/
DFS: https://www.dfsarch.com/home.html
Source URL: https://www.constructioncanada.net/montreal-universitys-terrace-repurposed-as-outdoor-salon/
---