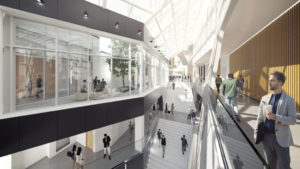 The final touches are being applied to the new downtown hub for HEC Montreal, opening in 2022.
Located at the intersection of the Quartier des Affaires, Quartier des Spectacles, and the Quartier International, the centre for entrepreneurship and research by Provencher Roy will forge ties between the school and the Montreal business community.
Targeting LEED Gold, the centre will host 27 classrooms, a 300-seat auditorium, and a centre for events and lectures. Public amenities—including a library, lounge, cafe, interior garden, and courtyard—integrate the building with the city and offer new community spaces.
The lower levels house the meeting and gathering functions and are easily accessible from the three main entrances.
The upper levels comprise meeting rooms, classrooms, and administrative offices of the executive education department. The northwest wing of the building includes a research centre where entrepreneurs and academics can collaborate on emerging technologies like artificial intelligence.
The site was once home to St. Bridget's Refuge, a shelter for Irish women during the 1860s. The new building preserves much of the greenspace, transforming it into a landscaped park extending the forecourt of the basilica. The scheme also brings the history of the ruined St. Bridget's Refuge to the forefront, retracing its foundation and partially rebuilding the remnants of its exterior walls.