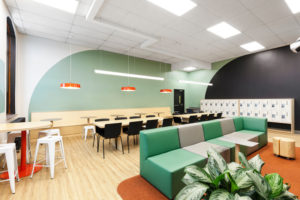 Le Pensionnat du Saint-Nom-de-Marie boarding school has collaborated with Taktik design through the development of two flexible classrooms in Montreal, with the goal to create a new approach to teaching and learning.
The design optimizes the space by offering areas which promote wellness and collaboration, thanks to their inviting and playful installations. The felt, soundproof panels on the sturdy furniture are custom made, and certain chairs, remnants of the old classroom, were also restored.
These reimagined settings invite students to take their place in the learning environment according to what serves them best. By allowing for independent development, the design plays an active role in their educational growth.
Several strategies were put in place: the furniture around the rooms is fixed, while the units in the centre are movable; the design favours a convergence towards the whiteboard, where the teacher can quickly illustrate their point; and the mats create subspaces, which delineate the zones and improve the acoustics in the room. Further, placing tables at differing heights creates a dynamic effect for the various environments.
The use of the spaces as classrooms during the day and recreational areas in the evening—as well as the addition of comfortable sofas, carpets, and plants—serves the student residents, who have come to learn, study, eat, and have fun.