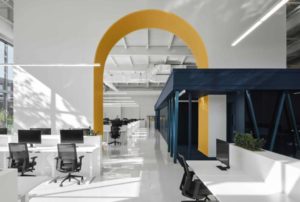 Blanchette Architectes' redesign of an old carpet factory at Dagenais St., in Montreal's Saint-Henri neighbourhood, into an office of an industrial automation firm broke the warehouse-style layout of the previous facility to create a city-like organization around a communal center.
The general contractor who worked on this project was Groupe Manovra, while Sarah Arsenault served as the project manager.
Industrial automation company, Vention, already had office space within the pre-existing facility. The architect approached the renovation from a storytelling point-of-view, aiming to narrate a new story alongside the previous one. "To do that, we designed a building within the building," said Sarah Arsenault, director of the interior design department at Blanchette Architectes. "The project brief was to create a space that would encourage the harmonious coexistence of a variety of functions. It also had to work within existing architectural constraints, from the high windows to the urgent need to maximize the amount of usable space added to the existing offices."
Since the previous building design suited the operations of a factory, the exceptionally high ceilings and fully open layout was broken down by creating a center in the middle of the building, inspired by older cities, where the settlement grew around a nucleus, typically a church. Next, work and meeting rooms were fitted into this space, staying true to the role public and recreational spaces play within city centers.
As a design element that unifies the two levels of the building—which spreads over more than 1,394 m2 (15,000 sf)—an arch resembling the Arc de Triomphe in Paris was built to one side of the central structure. On the other side of the structure lies an adaptive podium suited for having informal encounters.
Another design element, structural shapes reminiscent of Meccano toys, inspired from robotics and production lines, not only serve an aesthetic purpose, but also support the cantilevered roof.
"Our employees form a community working on shared projects," said Michelle Mathieu, Vention's project manager for the office redesign project. "The architecture implemented by the specialists at Blanchette Architectes aligns with that philosophy, because it creates multiple meeting points for employees."