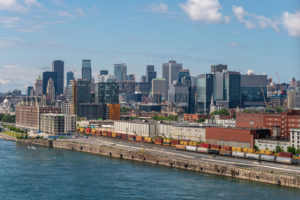 The proposed Quartier des lumières project in Montréal's Centre-Sud borough will be one of nine neighbourhoods in the world, and only Canadian one, to participate in a Fitwel Community certification pilot program.
The initiative is led by international architecture, design, and planning firm Lemay.
The new Fitwel Community standard will promote planning strategies with positive health impacts in seven categories:
increasing physical activity;
promoting occupant safety;
reducing illness and absenteeism;
promoting social equity for vulnerable populations;
fostering feelings of well-being;
improving community health; and
facilitate access to healthy food.
Lemay's design for the 8-ha (20-acre) mixed-use neighbourhood emphasizes on environmental harmony and social diversity. The program prioritizes pedestrian and bicycle connections, access to quality public spaces, and controlled densities to create an urban neighbourhood on a human scale.
The proposed new urban framework defines the Quartier's squares and parks, streets and shared spaces, pedestrian crossings, and green alleys that will criss-cross the site. The main park will provide an area of over 5203 m2 (56,000 sf).
The project will also include the development of approximately 1000 social and affordable housing units, office space, and a residential component for a diversified population.