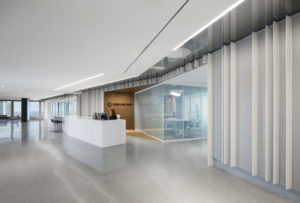 Located in Place Ville Marie, the iconic cruciform-shaped Montréal skyscraper, the design concept for international law firm Gowling WLG's office, implemented by the Imperatori Design and Menkès Shooner Dagenais LeTourneux Architectes team, embodied Gowling's vision by completely thinking outside the 'cross.'
Gowling WLG had ambitious objectives for their 5388-m2 (58,000-sf) office redesign. It needed to distinguish itself from the usual 'look' of big law firms by being dynamic, innovative, flexible, and next-gen ready. The architecture, furnishings, and technology had to support working anywhere while also functioning as a living environment that inspired employee performance and quality of life. Similarly, the visitor area needed to welcome and 'wow' the client.
The project realized by the design team represented elements of innovation reflecting the identity and culture of the firm.
The design team implemented open-plan concept for the office space. The reception, which is atypically located beyond the centre core, immediately draws people in as a direct extension of the exclusive 37th-floor elevator lobby and opens up to the dedicated client area, with a coffee bar, meeting rooms that expand and contract at will, and offering spectacular panoramic views of the Montréal skyline. Further, the client centre has the ability to effortlessly transform itself for varying events, all the while providing its users with cutting-edge technology.
The heart of the cross-shaped floorplate forms a central employee 'hub' uniting the three intersecting practice wings as a crossroads of employee activity. The space is designed to feel like a casual open-plan living space, with informal meeting and lounge areas, a library, coffee bar, and even a ping-pong table.
The practice wings themselves are also designed as living environments that foster collaboration. Assistants are grouped together in central workspaces with access to natural light and 270-degree views via glass offices at the perimeter, while corner offices formerly reserved for partners are now given back to the employees, transformed into collaborative project rooms.