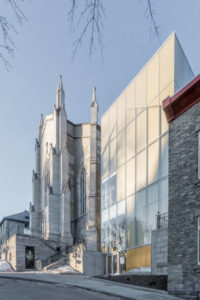 Chevalier Morales Architectes, a Montréal-based architectural firm, is the recipient of the 2018 Emerging Architectural Practice Award by the Royal Architectural Institute of Canada (RAIC).
Stephan Chevalier and Sergio Morales, the founders of Chevalier Morales Architectes, launched the firm in 2005 after working for more than a decade at major Canadian firms. The practice, with 15 architects and contributors, has created a series of impressive works via private houses and competitions for cultural projects, says a statement released by RAIC.
The Emerging Architectural Practice Award recognizes the principals of an emerging architectural practice that has consistently produced distinguished architecture. The award, decided by a five-member jury, recognizes the quality of built work, service to clients, innovations in practice, and public recognition.
The jury was impressed with the craftsmanship of Chevalier Morales Architectes work. "Their work is creative, inventive, fresh, strong, sensitive to details, and almost poetic," the jury said. "There is a mastery of building technology. They have demonstrated very mature work for an emerging firm."
The firm's cultural projects have had a positive impact on their respective communities. One such example is the Maison de la littérature. Both a public library and centre for literary creation, it has given a contemporary physical identity to Québec City's literary community and renewed the appeal of current literature for youth. The contemporary addition to a former neo-gothic church and the interiors have become signature attractions of Old Québec attracting both general and specialized tourism.
This project garnered several awards, including the Grand prix d'excellence and the Prix d'excellence en architecture of the Québec Order of Architects in 2017 and the 2014 Canadian Architect Award of Excellence. The firm also received the Québec Order of Architects' Award of Excellence for the Résidence Roy-Lawrence in Sutton, Québec, in 2015.
The firm's principals teach in several Canadian universities and are also regularly invited as guest speakers and reviewers. By serving on competition juries, the principal architects continue to expand their efforts to improve the built environment.
The award will be presented at the RAIC/AANB Festival of Architecture to be held in Saint John, NB, from May 30 to June 2.