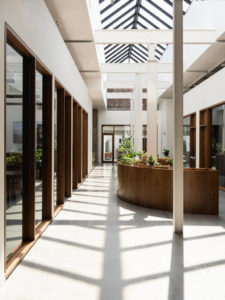 One of Montreal's historic warehouses has been transformed into a modern office space, with the help of local architecture firm L'Abri.
Built in 1868, the newly restored warehouse is now home to international consulting firm Accuracy's Montreal office.
Following its design-build approach, the project team were involved early on, participating in the search for an ideal location. Accuracy chose a place full of character and history. The design highlights the architectural heritage of this former warehouse's solid masonry walls and wood/steel structure. Covered by two monumental skylights creating inner courtyards, the space is filled with natural light, which gives it a spatial quality.
The choice of lighter tones and sober finishes accentuates the atmosphere. Developing a hybrid concept between open-plan offices and closed conference rooms, L'Abri's design optimizes square footage while promoting teamwork and productivity.