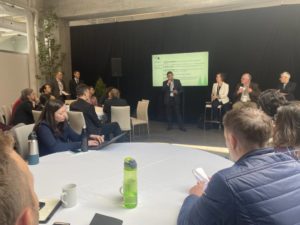 A new program called MultiRés was announced at the Montreal Climate Summit. The program focuses on decarbonizing mid-sized buildings in the Montreal Metropolitan Community.
The program will provide owners and residents of older, fossil-fuel-heated, multi-residential buildings between six to 50 units in greater Montreal with expedited methods to decarbonize, reduce costs, and achieve a variety of related benefits in their buildings.
The MultiRes program was created through a partnership between the Greater Montreal Climate Fund (GMCF) and Efficiency Capital (EC) and has been made possible due to a generous $5 million gift from the Trottier Family Foundation to GMCF, in support of Montreal's decarbonization goals.
GMCF and Efficiency Capital are combining private and public capital to increase client-building value and to further stimulate investment in the sector. Efficiency Capital brings over $100 million of the project capital, including funding from various banks and other impact investors. Renovations will begin with pilot projects this summer, and full program implementation will follow in the new year.
Targeting mid-sized buildings in the 82 municipalities of Greater Montreal, the program offers flexible financing up to 100 per cent for retrofit costs, and other assistance that will reduce financial and paperwork headaches which owners normally face.
MultiRés will take on major renovations, such as heating system replacement, utilizing energy savings to help address affordability issues while decarbonizing. Owners will benefit from technical expertise, a personalized coaching approach, the ability to choose their contractor, as well as a low-stress turnkey solution, thanks to specialized local partners.
Owners and residents can get more information or express interest in participating by visiting fondsclimatmontreal.com/en/multires/.
This initiative is part of major philanthropic support from the McConnell Foundation and the Trottier Family Foundation, two leading Canadian foundations, for a total of $12 million to the organization Low Carbon Cities Canada (LC3).
"Owners want to electrify and decarbonize their buildings when they have the necessary support and guidance. Efficiency Capital's integrated offer, with 100 per cent financing, combined with expert turnkey delivery, has proven itself in more than 55 installations that are generating $30M in energy savings and over 25,000 tonnes (27,557 tons) of GHG reductions. We are pleased to share our expertise with the Greater Montreal Climate Fund to launch the MultiRés program," says Chandra Ramadurai, CEO, and co-founder of Efficiency Capital.