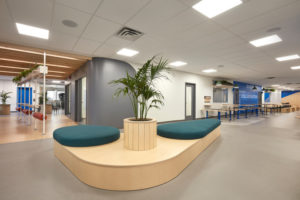 A building in Montreal's Collège Sainte-Anne has undergone a complete interior renovation by Taktik design to enhance students' learning experience.
The renovation encompasses nine classrooms, a teacher's lounge and a section where students work and study. A section of the entrance corridor, defined by hardwood floors and a latticed, openwork ceiling designed as a meeting area, was inspired by the Montreal subway system. Producing a funnel effect, one is directed from this area to the garage doors, which, once opened, lead to a rooftop terrace offering views of the Lachine Canal and its sunsets.
Whether it is the double classroom with its removable wall, or the 'aquarium' openings in the single classrooms, these spaces were built to communicate with one another for a collaborative ambiance. The director's office was encased entirely with windows, creating a sense of accessibility for the students, and reinforcing a familial atmosphere. The corridors provide a third environment acting as both an extension of the classrooms and space for circulation. The strategy of having undefined areas is embodied in the design, but also within the furniture. The layout allows for an appropriation of the spaces according to one's needs and provides the tools for creation and autonomy.
The layout of this facility also incorporates a biophilic design by including furniture that serves as a habitat for plants. Whether on the ground or in elevated areas, greenery can be found everywhere.