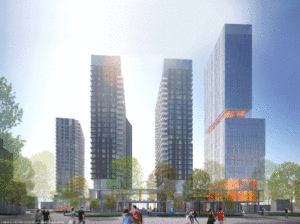 Plans to redevelop the former site of the Montréal Children's Hospital—submitted by Québecois real estate developer Devimco Immobilier—were approved at a city council meeting in December. The hospital has relocated to the Glen Site of the McGill University Health Centre (MUHC), and a mixed-use development incorporating park land, community centre space, social housing, and restored structures will now be constructed in its place.
This $400-million project will feature office space, a 250-room hotel, and 1400 rental, condominium, and social housing units. It will also be the first project in Montréal to have all units of the latter type be built in situ. The site design includes seven buildings in total, one of which is a three-storey heritage building, with the remaining six standing between 20 and 32 storeys with a total floor area of 130,000 m2 (139,930 sf). The ground floors of these buildings will also allow space for retail.
"We are proposing an innovative approach to mixed urban land use that reflects population diversity," says Serge Goulet, president of Devimco Immobilier. "We've listened to the local community's needs and we will continue to consult them to make sure that this vital site is developed in harmonious fashion."
The Peter McGill Centre—the planned community centre mentioned above—will help unify the site and surrounding neighbourhood, providing performance and multi-use spaces as well as a library and community hall. The redevelopment will also add greenery to the urban area—public park space will cover more than 30 per cent of the project's footprint. Further, new developments will not be the only additions here—the original nurses' residence also remains, with plans to restore and integrate it into the new development.