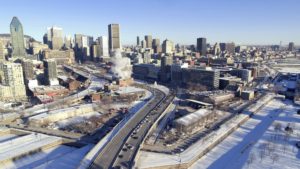 C40, a network of the world's megacities committed to addressing climate change, has launched the Reinventing Cities call for projects to transform underutilized spaces into resilient, low-carbon sites.
One of the participating cities is Montréal. It has proposed the De la commune Service Yard as a site to be redeveloped. Professionals are invited to submit their proposals by May 31.
Inspired by the Reinventing Paris winners, Montréal, a UNESCO city of design, has opened the doors to the teams' creativity through a free program. Projects can be residential, commercial, or institutional. The call is launched to multidisciplinary teams who wish to reinvent the 9910.5 m2 (106,675 sf) site to realize a project reflecting innovation, quality of life, and the fight against climate change.
For more information, click here.