Montreal-based homebuilder to build another condo in downtown Toronto
by arslan_ahmed | September 6, 2023 2:32 pm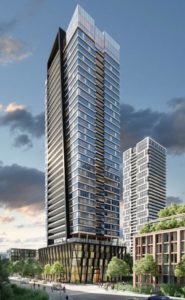 Montreal-based homebuilder, Broccolini, plans to build a second mixed-use condominium on River Street in downtown Toronto, aiming to offer affordable housing with all the 388 residential suites.
At 34 storeys, the housing project, The Riv, will be a striking addition to the east-end skyline. It will be located at the corner of River Street and Labatt Avenue, right next door to Broccolini's River & Fifth residential tower, which is currently under construction. The Riv will not only add much-needed supply to Toronto's housing stock, but it will also be attainable for buyers, with suites starting in the mid-$500,000s.
Located at 93 River Street, The Riv will back on to the Don River and the revitalized Lower Don River Trail. The public spaces nearby will be even more accessible with a new pedestrian walkway to Bayview Avenue. The building will also add widened, tree-lined streets to the neighbourhood, as well as boutique retail spaces designed for cafes, shops, and other small businesses.
The Riv's architecture will reflect its locale on the Don River's edge. Designed by global architecture firm IBI Group, the structure will stand out with its black-and-white exterior facade resembling a ship's mast. The building design further evokes the movement of the nearby Don River through its angular podium and a pixelated gradient pattern on the building's exterior.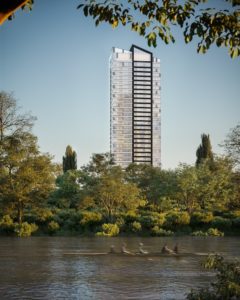 The interiors will have a lustrous, retro-Italian esthetic, courtesy of Toronto-based Patton Design Studio. Sleek metals contrast with softer, muted pink and orange pastels to evoke both mid-century Milan, as well as Downtown East's industrial legacy.
"The Riv's distinctive form and colour palette are intentionally of a piece with Broccolini's other developments," says Mansoor Kazerouni, global director of buildings, IBI Group. "The building is also very much in conversation with its location, both natural and urban. For example, the mast-like beacon is a symbol of the resilience of the east end neighbourhood. We're looking forward to spotting The Riv in future east-end skyline shots."
Endnotes:
[Image]: https://www.constructioncanada.net/wp-content/uploads/2023/09/TheRiv-DowntownToronto-East-mixed-use-housing.jpg
[Image]: https://www.constructioncanada.net/wp-content/uploads/2023/09/TheRiv-toronto-downtown-east-don-river-architectural-details.jpg
Source URL: https://www.constructioncanada.net/montreal-based-homebuilder-to-build-another-downtown-toronto-condo/
---