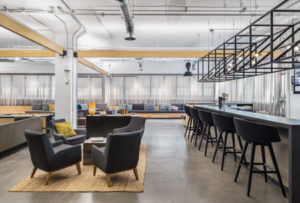 Montréal-based audiovisual company, Attraction, moved into its new 4924-m2 (53,000-sf) collaborative workspace. Previously divided by two different floors, they left their closed offices behind to join together in a shared single floor space.
Imperatori Design firm was asked to create a unified environment, that was heterogeneous and alive, and projected a positive vibe. The designers settled on a balance between some structure and what might first appear to be slightly chaotic, taking into consideration the various functions of the office.
Located in an industrial building, the U-shaped design studios and corporate functions benefitted from natural light, while the computer editing section occupies the windowless wall. Reflecting the 'unified environment' objectives, the wide circulation areas enhance the fluidity of exchanges between departments. The area dedicated to the well-being of employees has a place of choice, under the east-facing windows.
Numerous cubes and small alcoves with various configurations, placed throughout the open areas, make it possible to escape the ambient hubbub when the task requires privacy or calm. However, the link with the community is never interrupted since the closed work spaces include transparent, if not open, partitions of polycarbonate or glass. The entrance opens onto a large lounge, adjacent to the room welcoming collaborators and customers, as well as nomads wishing to sit, work, talk with a colleague, or reenergize.
A play of proportions is established between the concrete 3.7 m (12 ft) high ceiling and a grid of wooden beams fixed between the columns at 2.6 m (8.6 ft), which has the dual function of bringing warmth to the space and camouflaging the indirect light emitting diode (LED) fixtures. In an effort to make the atmosphere more comfortable, the Imperatori team, in collaboration with LumiGroup, varied the light sources—indirect, radiating, and focal—encompassing several types of lights: suspended, table lamps, floor lamps, directional spotlights, sconces, and LED tracks.