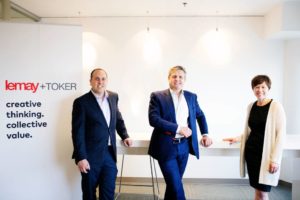 Last month, Montréal-based architecture and design firm Lemay expanded its offerings by merging with Calgary's Toker + Associates. Toker, now operating as Lemay + Toker, adds 32 architectural and interior design experts to the former's team, bringing Lemay's total employee count up to 450.
Members of both firms have expressed excitement and optimism about the change.
"We are delighted to welcome the Toker team to the Lemay family," said Louis T. Lemay, the latter firm's president. "Toker's excellent reputation and commitment to sustainability and innovation perfectly support our vision to become the Canadian leader and a world reference in the integrated design of sustainable living environments, through a distinctive approach."
Eric and Dedre Toker, founders of Toker + Associates, are now Lemay partners, but will continue in their leadership roles at the Calgary office.
"We are proud to join such an esteemed Canadian leader in offering a wide range of services to clients across Canada," said Eric Toker. "Lemay's reputation for creativity and flawless delivery extends well beyond our borders. Both sides are extremely pleased with the fact that our missions and values are so similar."
From the merger, Toker will benefit from Lemay's urban planning, landscape architecture, and airport and health infrastructure capabilities, while Lemay receives an opportunity to extend its reach to Western Canada.