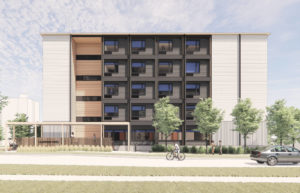 As part of an ongoing initiative to address housing issues, Montgomery Sisam Architects has been re-engaged by the City of Toronto to design modular affordable housing for six new distinct sites to provide better long-term housing for those experiencing homelessness.
The plan includes 398 new self-contained units across six distinct sites in Toronto…With these six new sites, Montgomery Sisam hopes to push the boundaries of what affordable housing typology looks like, with modular buildings striving for a site-specific quality that resonates with their respective neighbourhoods. Plans have evolved based on earlier counterparts, further improving quality of living and dwelling flow, including:
improved neighbourhood integration: End modules have been enhanced to improve urban integration, routing, landscaping, and expansion opportunities. Cladding details are also amended to improve the material quality and expression of their appearance;
enhanced unit layout: Built-in wardrobes have been repositioned to improve overall flow and layout, while windows are shifted to improve the dwelling entry experience; and
additional focus on sustainability: Mechanical and electrical modules are widened to improve coordination and routing, plus accommodate Tier 2 sustainability requirements. Buildings will also include ample space for bike parking.
The Modular Housing Phase 2 plan was initiated in direct response to COVID-19 to relieve pressure on the shelter system and create safe, permanent housing solutions for its most marginalized residents.
With plans to expand even further, Phase 2 also included 12 additional sites under consideration for future phases of the Rapid Housing Initiative.