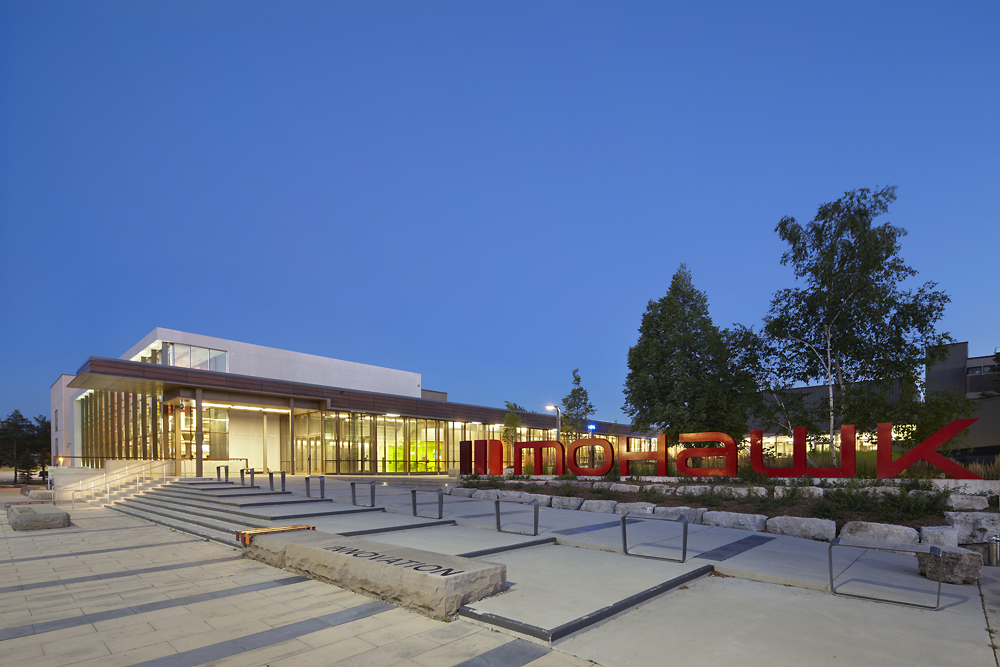 Mohawk College's Learning Exchange has become a central beacon on the Hamilton campus, boasting a colourful, glazed curtain wall and numerous green spaces to foster a healthy learning environment for students.
Designed by Toronto-based Zeidler Partnership Architects, the $12-million, three-storey, 4505-m2 (48,500-sf) facility, houses the learning commons space, library, and 10 multi-purpose classrooms. It also acts as a gateway to the rest of the campus via a north-south pedestrian link through the existing buildings and parking areas.
One of the elements of the site, designed with student feedback in mind, is the 'Collaboratory.' Located on the floor above the library, this space provides gathering areas for group work, numerous individual work stations, and access to the rooftop terrace.
Daylighting is maximized by the building's fully glazed exterior wall, reducing the need for electric lighting and lowering energy consumption. Any interior lighting installations are equipped with daylight and/or occupant sensors. Exterior lighting is powered by both wind and solar energy sources.
The outdoor spaces surrounding the building provide informal gathering areas for students in two distinct courtyards, which connect to the pedestrian 'main street.' Additional green spaces using 2000 native plants include the vegetated roof and a two-level living wall inside the main entrance. A rooftop stormwater intercept cistern is used for water irrigation.
The living wall, in addition to low-emitting adhesives, sealants, and other interior materials, improves the indoor air quality (IAQ); the plants act as natural bio-filters to remove carbon dioxide (CO2) and other contaminants.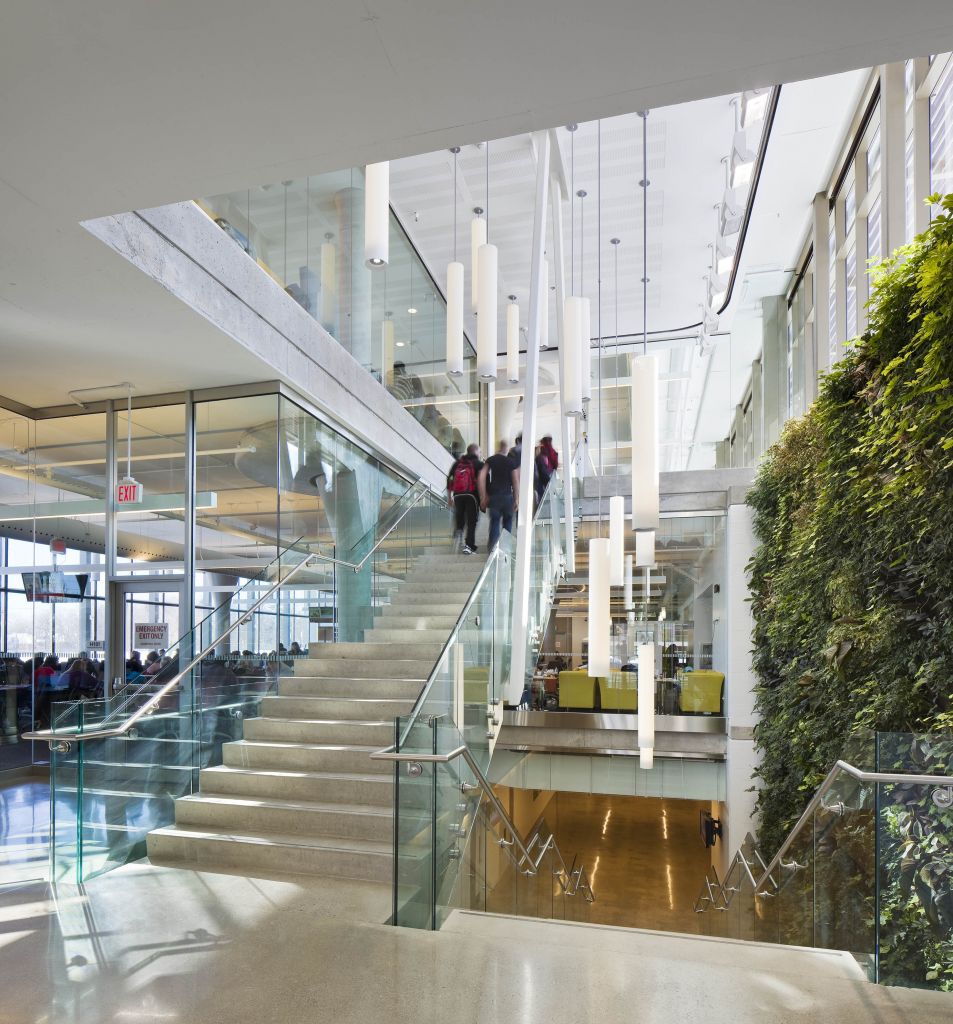 Heating for the facility is provided through a hydronic piping system embedded in polished concrete floor slabs, allowing for an even distribution of heat. Having the heat radiate from below, rather than through ceiling diffusers, minimizes energy consumption.
Four air-handling units (AHUs) supply the building's air-conditioning—one unit is dedicated to fresh air intake only. This system also incorporates a heat enthalpy wheel that extracts energy from exhaust air.
Specified as the primary building material due to its durability, concrete is used as exposed ceilings and walls. Overall, the design elements and materials contributed to the Leadership in Energy and Environmental Design (LEED) Gold certification. Approximately 15 per cent of construction materials were recycled. Further, more than 75 per cent of the space in the building is dedicated to learning and educational areas.
The Learning Exchange building's position on Mohawk's campus laid the framework for future renovations. Through its connection to an existing campus building with a glass corridor, it marked the beginning of a $30-million efficiency and sustainability expansion plan. New structures will be built along the 'main street,' optimizing pedestrian traffic across the campus.

Control the content you see on ConstructionCanada.net!
Learn More.