Modular Building: An inherently greener construction process
April 1, 2012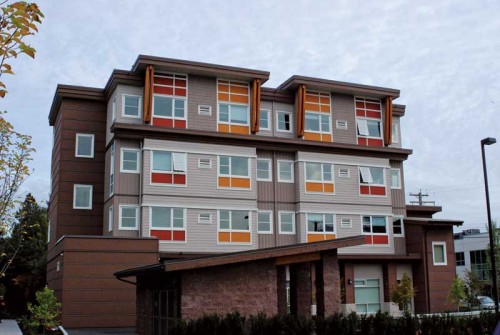 By Tom Hardiman, CAE
The benefits of modular construction are becoming more widely known. The reduced time spent onsite leads to fewer health and safety issues for construction workers, quality building, accelerated construction schedules, and a faster return on investment (ROI). The momentum of various green rating programs and standards is now drawing attention to the advantages of offsite construction in terms of sustainable building.
The Modular Building Institute (MBI) defines modular construction as an offsite process, performed in a factory setting, yielding three-dimensional modules that are transported and assembled at the building's final location. Due to the controlled process, modular construction by nature is material- and resource-efficient and an inherently greener construction process.
As this article explores, the green advantages of modular construction include:
less material waste;
reduced site disturbance; and
ability to repurpose and reuse existing buildings and components.
Less material waste
Traditional onsite construction focuses on recycling or diversion of material waste post-construction. The modular construction industry, however, focuses on reducing waste on the front end by completing up to 90 per cent of the building in an indoor environment.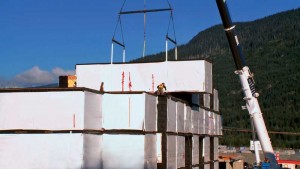 Building the modules in a factory provides greater accountability over materials and protects them from inclement weather and theft. Repetition in the production process allows materials to be measured and accounted for before leaving the factory, significantly reducing the amount of waste sent to landfills. Modular builders also have the ability to store much more material than onsite builders and have a better idea of how many materials they will need at the start of construction.
The automated, streamlined modular construction process can also improve the quality of the buildings and allow for fewer onsite errors and less re-work toward the end of the build cycle, further reducing the amount of waste on a project.
Another key way the modular construction industry can help limit waste is by recycling and reusing its buildings. Modular buildings are more readily designed for reuse and deconstruction. The buildings can come apart in the same pieces in which they were created. When a building is no longer needed for its current purpose, modular buildings can be disassembled and the modules relocated or repurposed for a new use. Entire buildings can be recycled in some cases, eliminating the need to abandon or demolish a building while a completely new one is constructed.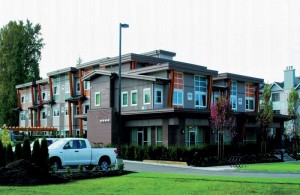 Reduced site disturbance
The offsite construction process also produces fewer site disturbances due to the reduced time onsite, less waste to landfills from the site, decreased construction pollutants at the site, and minimal community disruption.
Another key reason why offsite construction provides less environmental disruption is because of the reduced vehicular traffic. With modular construction, modules can be assembled in the factory at the same time the site preparation is taking place. This allows for most projects to be completed 30 to 50 per cent sooner than if the whole building was completed onsite. This streamlined and efficient work process results in fewer labour hours needed per project, and fewer trips to the site per project.
Ability to repurpose
As demonstrated by the case studies in this article, buildings constructed using a modular process are designed for onsite assembly. As such, the buildings are also designed for disassembly. Modules and components can be more easily disassembled at the end of a facility's useful life, and repurposed for a secondary site. This effectively closes the end of the lifecycle loop, or at least greatly extends the lifecycle of the modules.
Repurposing is a relatively new concept within the sustainability community as it has been commonly accepted most materials will in fact end up in landfills after a certain point. In most cases, it simply costs too much to deconstruct a site-built structure and salvage materials for repurposing.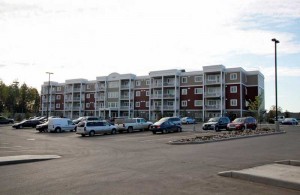 Modular and LEED
While using modular construction does not automatically qualify for points under the Leadership in Energy and Environmental Design (LEED) rating system, there are several areas in which modular buildings can earn points. In some categories, the building method can even provide an advantage. The Canada Green Building Council's (CaGBC's) LEED for Homes rating system rewards construction waste management at the construction site in the category of Materials and Resources (MR) for material-efficient framing, specifically for offsite fabrication. It also awards points for waste management by being able to account for the materials, by weight or volume, that are diverted from landfills. Special recognition is also given to using existing buildings and materials with recycled content.
The offsite construction process also provides other advantages in meeting LEED requirements. It can have minimum site impact if delivered carefully and strategically with respect to site constraints qualifying projects for credits under Sustainable Sites (SS). The tight building of modular construction allows for superior energy conservation and indoor air quality (IAQ) qualifying modular projects for credits in the categories of Indoor Environmental Quality (EQ) and Energy and Atmosphere (EA). (See the Canada Green Building Guide (CaGBC) Leadership for Energy and Environmental Design (LEED) for Homes rating system. For more information, visit www.cagbc.org/AM/PDF/[5]LEED_Canada_for_Homes_2009_RS.pdf[6]).
Modular buildings are particularly well-suited to be energy-efficient depending on assembly techniques, making them eligible for EA Credit 1, Optimize Energy Performance. Additionally, modular unit manufacturing plants contribute to meeting the intent of EQ Credit 3.1, Construction IAQ Plan During Construction.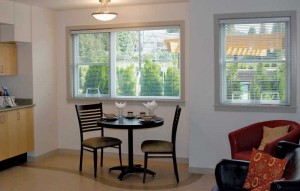 Case study examples
The following are case studies that demonstrate the resource efficiency and inherently green benefits of the modular construction process.
Stoney Mountain Apartment Complex
This project is the largest four-storey modular project ever undertaken in Alberta. The two apartment complexes were designed to esthetically blend into their surroundings by incorporating earth-tone materials such as stone and hard plank siding in warm neutral colours. The balconies were installed onsite, but used refabricated balcony structures that were then craned into place.
The modules were structurally engineered using a minimum number of materials without compromising the structure's integrity during transport. Some modules were built in one continuous section and then divided onsite.
Each suite has its own energy recovery ventilation (ERV) system to provide isolated ventilation and to achieve energy efficiency by reclaiming heat and recirculation back into the suite from heat loss sources such as the bathroom exhaust fans. The whole building complex employed a geothermal hydronic heating system and also incorporated solar energy to fuel the water heating system. Corridor and party walls used insulation and the design specifically allowed each suite to essentially be one module; therefore, double wall construction was realized between units and allowed for a sound transmission class (STC) rating in excess of 55. Windows were designed as dual-pane, low-emissivity (low-e), and argon-filled.
Chilliwack Social Housing
The Vancouver Organizing Committee for the 2010 Olympic and Paralympic Winter Games and B.C. Housing made an agreement to convert over 320 temporary modular housing units into 156 permanent apartments for people in need in six communities across the province:
Chetwynd;
Chilliwack;
Enderby;
Saanich;
Sechelt; and
Surrey.
As part of this initiative, the groups worked with a local modular builder to design and manufacture temporary accommodations used by almost 600 officials in Whistler's Athletes' Village during the Winter Olympics. The 74 modules were disassembled afterward and relocated to the communities. (For more on the Athletes' Village, see "The Efficiency of Modular Construction" by this author in the July 2010 issue of Construction Canada. Visit www.constructioncanada.net[8] and select "Archives.")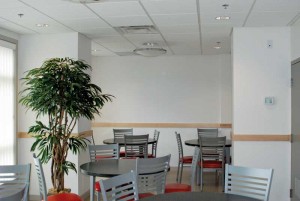 One of the projects completed as a result of this partnership was a social housing project in Chilliwack, B.C. The modules were manufactured in February 2009 with onsite completion in November. After the Olympics, the modules were relocated to Chilliwack and stored offsite until they were moved to the new site in September 2010. The site-constructed first floor incorporates office and meeting space with other amenities including a games room and lounge, commercial kitchen and dining room, and ancillary space for youth services.
There are 11 suites on each of the three floors with the first floor for youth and the top two floors for adults struggling with mental health and addiction. The 33 suites each have one bedroom or one bedroom with a bed alcove for residents with children, and feature fully equipped kitchens with eating areas, living rooms, and washrooms.
The modules were designed to be reconfigured from single-storey temporary accommodations into a multi-storey permanent building, so they had to fit together differently when they became part of a four-storey structure. Since the modules were used for the suites, they were constructed with kitchen and plumbing rough-ins and designed with accessible features. The lumber used in the modules' construction was primarily sourced from B.C. forests damaged by pine beetle infestation, which otherwise would not have been used.
The design and construction achieved high sustainable standards to promote energy efficiency and minimize any environmental impact. When the temporary accommodations were dismantled, the metal siding and other materials were recycled and the untreated wood blocking was sold for firewood.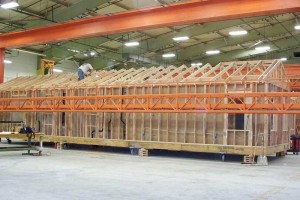 Surrey Social Housing
This three-storey supportive housing facility is the largest of five pre-planned affordable housing projects, repurposing and using existing facilities from the Olympic Games. These facilities provide safe, supportive housing for seniors, people with disabilities, and individuals who are homeless or at risk of homelessness.
The facility was designed to the City of Surrey Urban Design Guidelines to complement the neighbourhood in which it is located. The 52 studio apartments for the homeless (or those at risk of it) include a fully equipped kitchen, eating area and living room, a bed alcove, and washroom.
The modules were originally constructed for single-storey temporary accommodations built to house two people per room; they included kitchen and plumbing rough-ins so the individual units could be transformed into multi-storey permanent buildings. The modules were designed to fit together differently when they became part of the larger structure with site-built hallways and common areas including a commercial kitchen and dining room, administration offices, and additional space for program support services. The social housing facilities constructed under this program were built to all local or applicable standards, codes, and bylaws governing wood-framed buildings. The exterior roofing, cladding, and other associated work was completed onsite.
Designed to meet or exceed EnerGuide 80 guidelines, the housing units have a high level of energy efficiency, including:
energy-efficient furnaces, heat pumps, thermostats, and lighting;
low-flow fixtures;
Energy Star appliances and windows; and
high R-values combined with fewer thermal breaks for better draft-proofing.
Manufacturing of the modules started in February 2009 for November completion of the temporary accommodations. Tear-out began in March 2010 after the Olympics and the modules were relocated to Surrey and stored offsite until the new site was ready.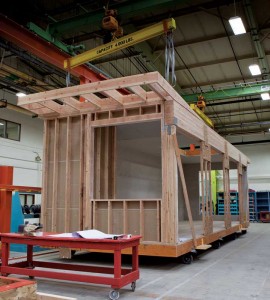 Conclusion
Modular construction can provide significant green advantages by decreasing the amount of waste the construction industry produces. The modular construction process allowing waste to be reduced in the factory and buildings is designed in a way that allows them to be reused. Building the modules offsite also significantly lowers the environmental impact on the jobsite. Additionally, the construction process lends itself well to extending the useful life of building components but repurposing the modules for secondary use. By controlling all aspects of production, the modular building industry can create superior buildings to meet the highest green standards.
Tom Hardiman, CAE, is the executive director of the Modular Building Institute (MBI)––the international non-profit trade association for commercial modular construction. He has worked in the construction association industry for 13 years. Hardiman can be reached at
tom@modular.org.
Endnotes:
[Image]: http://www.constructioncanada.net/wp-content/uploads/2015/12/Chilliwack-exterior1.jpg
[Image]: http://www.constructioncanada.net/wp-content/uploads/2015/12/CRANE-INSTALL-LODGE.jpg
[Image]: http://www.constructioncanada.net/wp-content/uploads/2015/12/Britco_Surrey.jpg
[Image]: http://www.constructioncanada.net/wp-content/uploads/2015/12/AwardImage.jpg
www.cagbc.org/AM/PDF/: http://www.cagbc.org/AM/PDF/%20LEED_Canada_for_Homes_2009_RS.pdf
LEED_Canada_for_Homes_2009_RS.pdf: http://www.cagbc.org/AM/PDF/%20LEED_Canada_for_Homes_2009_RS.pdf
[Image]: http://www.constructioncanada.net/wp-content/uploads/2015/12/Britco_Surreyinterior.jpg
www.constructioncanada.net: http://www.constructioncanada.net
[Image]: http://www.constructioncanada.net/wp-content/uploads/2015/12/Chilliwack-common-dining-room.jpg
[Image]: http://www.constructioncanada.net/wp-content/uploads/2015/12/4743203715_ae66d50ca8_b.jpg
[Image]: http://www.constructioncanada.net/wp-content/uploads/2015/12/6790399701_8ff8c65ed2_b.jpg
Source URL: https://www.constructioncanada.net/modular-building-an-inherently-greener-construction-process/
---