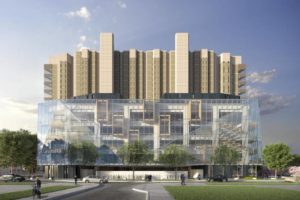 For the first time since its opening in 1973, the University of Toronto's Robarts Library is undergoing an expansion. The addition to the library, which will be located along the existing facility's west side, is intended to offer both increased work space and visual differentiation from the building's concrete shell.
"We're adding a range of options for studying, both individual as well as more socially oriented, collaborative settings to learn," said Gary McCluskie, principal with Diamond Schmitt Architects, which is designing the expansion. "Robarts Common will have its own entrance and plaza connecting to the street and be much more transparent, much less intimidating than the original."
Nonetheless, the glass-enclosed addition will draw on the building's original design, which featured three pods surrounding its core. Two of these—now the Thomas Fisher Rare Book Library and Faculty of Information iSchool—were constructed, but one was left out. The five-storey expansion will complete the originally planned trio.
Connected to the existing building via a four-storey bridge, the new commons uses faceted geometry reflective of Robarts' triangular shape to create a unifying theme between old and new. Further, its wood and glass accents mean esthetics are not compromised.
"The height is the same as the other wings, and we wanted to fit with the geometry of the existing building and reference the triangle form in how the glazing is framed," said McCluskie.
Inside the building, 1200 study spaces will enhance the library's offerings, with four levels of amphitheatre-style seating, 32 group study rooms, reading tables, carrels, and features such as Wi-Fi and wireless printing. Further, the building will maintain a focus on sustainability, incorporating rainfall recycling, an electronic rolling blind system, and a vegetated roof.
The expansion follows an earlier renovation that improved daylighting, space, wayfinding, and data infrastructure in the facility.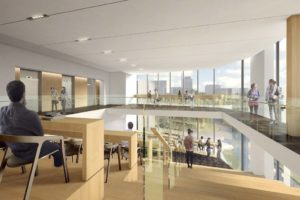 "This expansion will increase study space by 25 per cent and make a huge difference," said Larry Alford, the university's chief librarian. "It's about creating space for students to do new and different kinds of things—a space for social learning. Some students want places where you can hear a pin drop, and others need space to work with each other. This addition will add to the mix of those kinds of spaces."
Construction on the expansion should be completed by the start of the 2019 to 2020 school year.