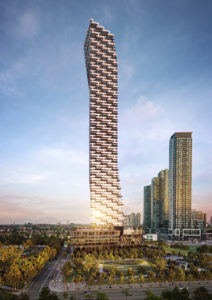 M City, a multi-billion dollar mixed-use community development in Mississauga, Ont., has broken ground on its third and tallest tower, M3. The building was designed by Canadian firm IBI Group.
M3 will soar to 81 storeys and be the tallest tower in the city once complete.
"Our goal has always been to develop a world-class community befitting any city in the world. With M3 moving on to construction, we are one step closer to that goal," said John Anderton, vice-president, Rogers Real Estate Development. "Mississauga's stature has only grown since we first announced M City, which is a validation of our unwavering belief in this city and our continued commitment to deliver cutting-edge design that resets expectations of what Mississauga should look and feel like."
M3's groundbreaking comes as construction charges full steam ahead on the 1570 units comprising M City's first two phases. Rogers Real Estate Development, a private holding company owned by the Rogers family, enlisted Canadian developer Urban Capital Property Group to help bring their vision of downtown Mississauga to life. The eight-tower, 6-ha (15-acre), 399,483-m2 (4.3 million-sf) master-planned community was designed by renowned urban designers Cooper Robertson of New York, to reflect the city's own vision for a new downtown and introduces 1 ha (2 acre) of public parkland onto the site.
M3's slender design features a subtle twist at the lower and upper parts of the tower and a dramatic sloped crown at the top. The design is rooted in the context of Mississauga's downtown and was the result of a design competition by Rogers Real Estate Development and Urban Capital, which received proposals from several of the country's top architecture firms. The tower's verticality is enhanced by a dynamic façade defined by sawtooth balconies that create a black and white diagonal pattern up the building, providing scale, texture, and materiality.
The tower form is crowned by a sloped and stepped top that complements the diagonal balcony pattern and creates terrace units, giving residents an opportunity to experience the city like never before. M3 will also provide unfettered access to green spaces as well as grade-related retail, and approximately 1858 m2 (20,000 sf) of office space. The building's unique design allows for an extensive amenity pavilion that includes an indoor pool and gymnasium, providing one-of-a-kind views of the neighbouring park.
"M3 cements the notion M City is a catalyst for the evolution of Mississauga," said Mark Reeve, partner at Urban Capital Property Group. "I am very proud of our tremendous team, which includes the owner/developer, Rogers Real Estate Development, IBI Group, Cecconi Simone, Ellis Don, Cooper Robertson, and our other leading-edge consultants. I am especially proud of the team we have onsite, who have been able to persevere under unprecedented conditions and ensure construction remains on schedule."