Menkes Developments to revitalize Sproatt's Toronto building
January 15, 2019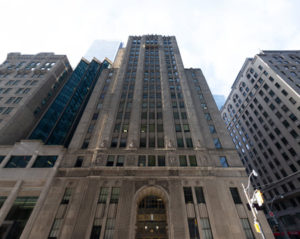 A heritage building in Toronto's financial district will be revitalized as an office environment.
Designed by prominent Canadian architect Henry Sproatt, the building was originally the Canada Permanent Trust Building.
The major restoration project by Menkes Developments[2] and TD Greystone[3] aims to improve the quality and service of the space, while preserving its historical and architectural elements. Menkes has plans for a street level re-imagination of the building. The revitalization of the 2508- m2 (270,000-sf) space will include significant electrical and mechanical upgrades.
"We think this development will have a unique place in the market, as there is nothing like it in the core right now," said Peter Menkes, president of Menkes Developments. "It will offer a cuttingedge work environment, redesigned to meet the growing demand for creative office space in Toronto, and will allow companies to occupy a historical, landmark property."
The revitalization will take place over the next 12 to 18 months, with occupancy in 2020.
Endnotes:
[Image]: https://www.constructioncanada.net/wp-content/uploads/2019/01/Opener-9.jpg
Menkes Developments: http://www.menkes.com/
TD Greystone: https://www.greystone.ca/
Source URL: https://www.constructioncanada.net/menkes-developments-to-revitalize-sproatts-toronto-building/
---