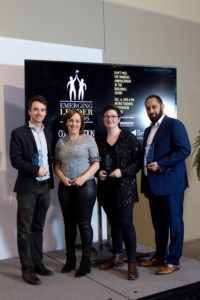 Earlier this year, Construction Canada launched its inaugural Emerging Leader Awards program. The awards, presented by Engineered Assemblies, honour members of the architectural, engineering, and construction (AEC) community who demonstrate excellence, impress and inspire their co-workers, and are well on their way to becoming the next leaders in the profession.
The winners were honoured during a special ceremony held on December 4, 2019, at The Buildings Show, Toronto. Here are the winners of the 2019 Emerging Leader Awards.
Emerging Leader Award – Initiative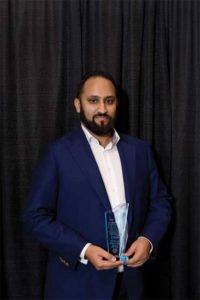 Kazim (Kaz) Kanani, CSP, CCCA
Senior associate and specification specialist, Quadrangle Architects, Toronto
"This award was truly a surprise! It is an honour to receive this award of Emerging Leader in the Initiative category, which would not have been possible without the countless individuals in the design + construction community who have and continue to mentor, guide, and support me. This recognition is not just a testament to my abilities but also the phenomenal support behind me. Thank you Construction Canada and CSC for this accolade!"
Emerging Leader Award – Leadership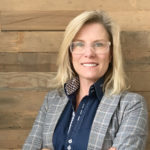 Heather Barnsley, Architect, AAA, AIBC
President, Ti STUDIOS Architecture, Calgary, Alta.

"I am honoured to receive the Emerging Leader Award–Leadership. I would like to thank Construction Canada for creating a program to celebrate the work of upcoming leaders in the AEC industry. Thanks to Faye Coburn for nominating me, and for everyone in my company for their continued support."
Emerging Leader Award – Technology Advancement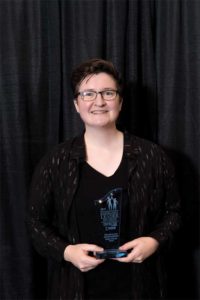 Kelly Fisher, CPHC
Director of BIM and building performance, Kearns Mancini Architects, Toronto
"I am honoured to be recognized as a leader in Technological Advancement for the inaugural Emerging Leader Awards. At Kearns Mancini Architects, we continuously strive to improve the way we do things and find efficiencies with technology. Using technology to improve our ecological building footprint allows us to build better buildings, and have fun along the way! Having the support of my colleagues has made this opportunity a reality in our day-to-day work, allowing the firm as a whole to aim for excellence and work to garner change in the industry."
Emerging Leader Award – Community Contribution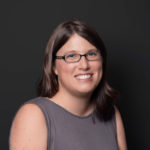 Emma Cubitt, OAA, MRAIC, LEED AP
Principal, Invizij Architects, Hamilton
"I am honoured to be recognized for this award as an emerging leader. For as long as I can remember I have had a deep love for nature and for people.  I am thrilled my work as an architect, in particular for affordable housing, is able to bring those two loves together. I also believe this role comes with the responsibility to design in a way that reduces our carbon footprint and hope winning this award will encourage others to learn about Passive House design for our low-impact future."
Emerging Leader Award – Industry Contribution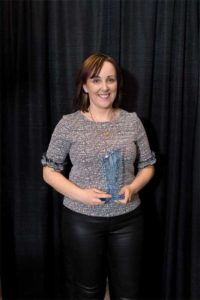 Deborah Bryne, C.Eng., MIEI, CPHD, LEED AP
COO, Kearns Mancini Architects, Toronto
"I am grateful for the recognition that comes with this award. I spend quite a lot of time pushing back against the norm so the construction sector can do better for the planet. By receiving this recognition for my work advocating for performance-based building solutions may help others make better choices."
Emerging Leader Award – Jury's Choice & Emerging Leader Award – Teamwork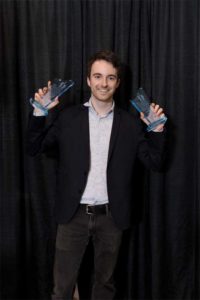 Mark Gaglione, P.Eng.
Construction sciences specialist, EllisDon Construction, Mississauga, Ont.

"This award came as a surprise. Thank you to Craig Applegath [founding principal of Dialog's Toronto studio] for the generous nomination and to all those who contributed. I am fortunate to work alongside so many talented individuals who continuously support and inspire me. Our industry is constantly changing and I am excited for what lies ahead!"

Carol Phillips, OAA, MAIBC, AAA, NSAA, FRAIC, LEED AP, partner at Moriyama & Teshima Architects, says Mark Gaglione, P.Eng., "has a contagious curiosity for problem-solving." This sentiment is shared by other building professionals who wrote in support of Gaglione's nomination.

"His push to understand systems, question the status quo when appropriate, and learn from these experiences has made him a great team leader to work with and I hope to continue to see his growth and success in leadership," said Nicholas Sills, mass timber design manager, Structurlam Mass Timber Corporation.

"In Mark's initial days, he was able to go out and connect with our people in the field, help them resolve the problems they brought to the construction sciences division," added George Charitou, P.Eng., senior vice-president, construction sciences (retired), EllisDon.

In an interview with Construction Canada's editor Nithya Caleb, Gaglione talks about his inspirations and future plans.

He describes himself as "the child who always ran home after school to build snow forts" in his yard in Etobicoke, Ont. Lego and K'nex were his favourite play materials. The youngest child, Gaglione's father wanted him to become an architect, and used to take him to open houses at design firms where he had the opportunity to learn a thing or two from the masters about the profession. Architecture's loss is engineering's gain!

In 2011, Gaglione graduated with an engineering degree from the University of Toronto. Fresh out of university, he worked for a private real estate developer where he gained an appreciation for the complexities involved in construction. In the summer of 2014, the 30-year-old joined EllisDon.

Gaglione's drive for evidence-based solutions has earned him accolades and made him a valuable asset to EllisDon's construction sciences team, where he focuses on accelerating the adoption of emerging technologies, including mass timber. Gaglione speaks passionately about mass timber and its place in the industry as a viable alternative to steel or concrete.

As for the future, this rising star says he wants to continue focusing his energies on mass timber and further explore the "intersection of technology and construction."

When not espousing the virtues of mass timber, Gaglione is a Scouts leader, and, you guessed it, indulges in woodworking in his spare time—a coffee table was on the agenda at the time of the interview!
Thank you, jury members: Keith Robinson, RSW, FCSC, FCSI, an associate at Dialog's Edmonton studio; Corinne Golding, RSW, FCSC, an independent consultant; Steve Londry, LEED AP, principal of Construction Specifications Solution; and John Kubassek, CEO of Engineered Assemblies.