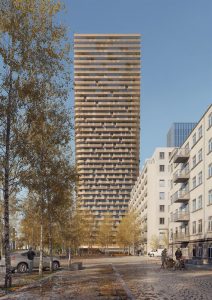 Mecanoo, an architecture firm based in Netherlands, has won a competition to design the Frankfurt Grand Central tower in Germany.
The 140-m (459-ft) high-rise will serve as a multifunctional residence with flexible workspaces, retail, catering, fitness, and a kindergarten in a business-focused neighbourhood.
The tower, with its glass and copper-coloured metal façade, was inspired by the industrial atmosphere of the location. The design consists of an ensemble of two volumes on a plinth. The building contains social housing up to the seventh floor and owner-occupied units and penthouses on the higher levels. The two buildings are connected by a transparent plinth.
The tower has a dynamic shape. As it rises, it widens, and the round corners gradually change into right angles. This subtle play of lines and perspectives gives the tower a characteristic silhouette. It is not the floor plans of the dwellings that are increasing in area, but the balconies that change in size and position. On the upper levels, glass screens add an extra layer to the façade and the balconies become continuous.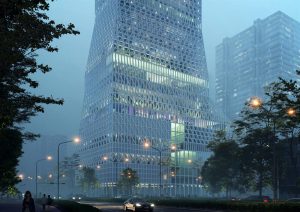 Mecanoo was also awarded the Futian Civic Culture Center project in Shenzhen, China. The new centre will house cultural programme and social spaces for stimulating urban activity in the city.
Mecanoo proposes a building that breathes; open to daylight and natural cooling breezes, and filled with greenery.
The permeable ground floor is designed to be open. A south-facing public square and a wide semi-interior east-west passage provide pedestrian links across the site. Inside, the ground floor is lively and accessible, with retail functions and a fully-glazed façade.
To serve the city's high population density, a large amount of cultural programme was to be built on the tight 10,610-m2 (114,205-sf) plot including three theatres, a library, and exhibition halls. The brief also included a kindergarten on a separate sub-plot.
This spatial puzzle was solved by arranging the various functions within a 150-m (492-ft) tower sitting on an L-shaped base. To give the cultural centre a singular appearance, the building is wrapped in a uniform triangulated grid façade flaring outward to incorporate the theatres. Scaling downward toward the edges, the flared volume transitions between the tower and the smaller scale of the kindergarten.
Large, openable planted atria include a roof cafe and open exhibition space above the theatre, an exhibition garden lobby and a library garden. Urban greenery and sky gardens provide shade, reduce the urban heat island effect, and cool the public spaces.