By Jason Spangler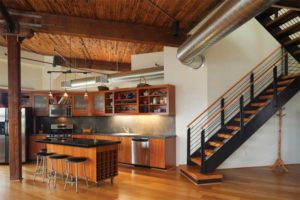 Wood is an exceptionally versatile and attractive building material that has been used in construction for thousands of years. Wood's advantages in construction are many. It is extremely strong in relation to its weight, is widely available, and is economically competitive with other types of building materials. Additionally, wood is durable, reusable, and carries the lowest carbon footprint of any comparable building material.
Wood can be used for nearly any facet of a building project, including floors, walls, ceilings, panels, cabinets, doors, window frames, and structural support. It can be fabricated into a variety of different shapes and sizes to fit practically any construction need.
For wood to satisfactorily fulfill its intended purpose in a building project, one must keep in mind the product is susceptible to the influence of moisture in the environment. Wood is a hygroscopic material, meaning it has the ability to absorb or lose moisture depending on the relative humidity (RH) and temperature conditions of the surrounding environment. Simply, wood expands when absorbing moisture from the environment, and shrinks upon losing moisture.
Due to its swelling and shrinking tendencies, wood can incur significant moisture-related damage. Problems due to moisture can rear their ugly heads in different ways. Warping (i.e. any deviation from flatness) is a common issue that can occur when wood takes up moisture unevenly or is allowed to dry too slowly or quickly.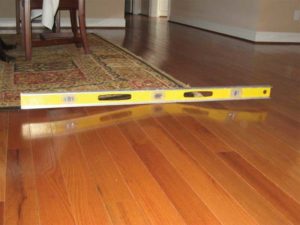 Warping can take several forms:
bow is a warp along the length of the face of the wood;
crook is a warp along the length of the edge of the wood;
cup is a warp along the width in which the edges of the wood are higher or lower than the centre; and twist is a distortion in which the two ends do not lie on the same plane.
Aside from the undesirable appearance, warping can also lead to costly structural failures. For example, in wood flooring, an issue with cupping may create gaps between the boards. Eventually, if the boards do not revert to their original shape, they could separate from the subfloor, or even splinter or crack.
Moisture may cause other types of issues that impair the quality, appearance, and performance of the wood.
Buckling
An extreme reaction to moisture, buckling is in response to prolonged exposure to excess moisture. Buckling happens when wood flooring gets pulled up from the subfloor, lifting as much as several inches in one or more places. Fortunately, buckling is not a common occurrence, and if caught early, spot repair and replacement may be possible.
Mould and mildew
Mould and mildew may grow on wood surfaces when the surrounding environment is damp or poorly ventilated. Aside from causing unsightly black, blue, or greenish-brown patches, spores from moulds may cause allergies or other serious health concerns. While moulds contribute to discolouration or staining, they are usually not a factor in any structural damage to the wood.
Decay or rot
This is another serious moisture-related issue. It is caused by specific fungi that can grow in moist wood and destroy the wood fibres, leading to structural damage. The spores of decaying fungi are always present in the air, and cannot be kept away from wood. However, fungi generally grow in wood only when the material's moisture content (MC) is greater than 20 per cent. Preventing decay is straightforward, assuming wood is kept below this moisture threshold.

Control the content you see on ConstructionCanada.net!
Learn More.