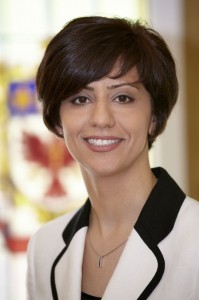 Professor Saiedeh Razavi has been named the inaugural chair in heavy construction at McMaster University's Department of Civil Engineering in Hamilton.
The position comes with teaching responsibilities at the undergraduate and graduate levels, and for a technology program shared with Mohawk College. As chair, Razavi will provide leadership in advancing innovation in the heavy construction sector, attracting and developing talent, and contributing to the advancement of a modern, durable, and sustainable infrastructure in Ontario. She will also assemble an advisory team from the construction industry and academia to help provide guidance.
"I will be responsible for putting in place the framework required for educating job-ready construction professionals in the heavy-construction sector," she toldConstruction Canada Online. "I am absolutely delighted and very honoured to have been selected for this position. I am also very excited for having this exceptional opportunity to bring industry and academic researchers and educators together to find real-world solutions for construction in the 21st century."
Razavi earned her PhD in civil engineering at the University of Waterloo, and holds degrees from the Iran University of Science and Technology and Sharif University of Technology.