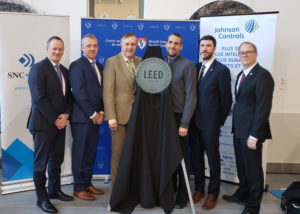 The McGill University Health Centre (MUHC) has received a second Leadership in Energy and Environmental Design (LEED) Gold certification, a first in Québec.
The LEED Gold for Existing Building (EB) certification has been awarded by the Canada Green Building Council (CaGBC) to the new MUHC Glen site, which opened in 2015. In February 2016, the site obtained LEED Gold for New Construction (NC) certification.
Some of the ways in which the facilities at the MUHC Glen site were designed to be eco-friendly include:
implementation of energy-efficient initiatives resulting in less energy consumption than for the average standard Canadian hospital;
reduced light pollution as a result of adapted lighting fixtures and an emphasis on natural light;
low-flow faucets that decrease potable water consumption;
a bicycle path linked to the City of Montréal's network and more than 400 parking spaces for cyclists;
showers for cyclists;
79 charging stations for electric vehicles;
a waste management centre to recycle paper, cardboard, electronic waste, glass, and plastic; and
decreased heat island effect in large part due to the maintenance of green spaces consisting of trees, perennials, and shrubs that do not require any watering, and to the presence of highly reflective materials.