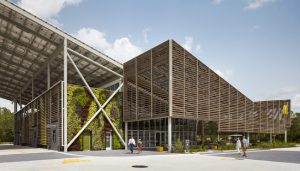 Ross Barney Architects has unveiled designs for McDonald's net-zero energy restaurant at the Walt Disney World Resort in Florida.
The McDonald's-Disney flagship aims to be the first net-zero energy quick-service restaurant, and represents the company's commitment to building a better future through "Scale for Good." Incorporating visible and impactful symbols of change, the restaurant deploys architecture and technology that seek to place itself in the future, Ross Barney Architects said.
Under a shed clad in solar panels, the restaurant is a sustainable and healthy response to the Florida climate. Energy consumption is reduced by optimizing building and kitchen systems. Onsite generation strategies include: 1740 m2 (18,727 sf) of photovoltaic (PV) panels, 447 m2 (4809 sf) of glazing integrated PV panels (BiPV), and 25 off-the-grid parking lot lights produce more energy than the restaurant uses.
Taking advantage of the humid subtropical climate, the building is naturally ventilated around 65 per cent of the year. Jalousie windows, operated by outdoor humidity and temperature sensors, close automatically when air-conditioning is required. An outdoor 'porch' features wood louvered walls and fans to create an extension of the indoor dining room.
A robust education strategy was a goal of the project. The architecture itself becomes a narrative tool in addition to interior wall graphics, interactive video content, and gaming unique to this location. The restaurant teaches visitors of all ages how to be more dedicated environmental stewards at a building, system, and individual scale.
As an energy intensive building typology and arguably an enabler of automobile culture, the McDonald's Flagship—Disney explores its role as a sustainable steward; revolutionizing an industry to be more thoughtful, strategic, and impactful, Ross Barney Architects said.
The newly remodelled building is located on the west side of Disney's property on Buena Vista Drive near the All-Star Resorts. For an initial 'soft-launch' period, the restaurant is open only for Drive-Thru and McDelivery service.
McDonald's will also pursue the International Living Future Institute's (ILFI's) Zero Energy Certification over the next year. Data and learnings from the restaurant will inform McDonald's global sustainability efforts, including progressing toward the company's science-based target to reduce greenhouse gas (GHG) emissions by 36 per cent in restaurants and offices by 2030 compared to a 2015 base year.