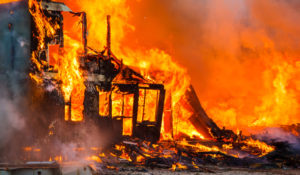 A massive fire recently broke out at a construction site on Teston Road and Pine Valley Drive in Vaughan, Ont., damaging or flattening a total of 71 houses.
According to a report by CBC News of those units, 31 were detached homes, 23 were townhouses, and some were basements where a floor deck had been installed. While at least 20 homes were destroyed, the cause of the fire is still unknown and under investigation by the Office of the Fire Marshall, York Regional Police, and Vaughan Fire.
The report continues by relating how the fire started around 1 p.m. on Apr. 12 and was brought to a halt with the help of 52 firefighters and four chief officers, in the presence of several police officers and multiple EMS units. A neighbouring locality also had to be evacuated while the efforts to bring down the fire were underway.
In CBC News report, deputy fire chief Grant Moffatt stated the fire originated in a unit on the far west side of the site before spreading, propelled by the wind. He added the intensity of the blaze resulted in cracked foundations in even those properties that had not been destroyed. While the developer's insurance adjusters are evaluating the losses, there is nothing to suggest suspicious origins of the fire.
According to the report, in response to an inquiry about the cost of the damage, Moffat said, "Where to start? If you're starting with new foundations, new buildings, what building materials were damaged, what infrastructure was damaged?"
Moffatt indicated his department was working with the builder to gain an estimate of the losses in the coming days. According to the developer's website, the houses were priced at a value of more than $2 million and residents were expected to begin moving in the later part of the year.