Prefabricated construction
Chouniard believes prefabricated construction is the future of the industry. "When it comes to meeting the major construction challenges of our time, how we build is as important as what we build with. Skilled labour shortages, compressed schedules, and the potential for greater quality control are all factors contributing to the popularity of prefabricated mass timber construction. Factory-built solutions harnessing the power of modularization are reinventing the construction industry," he said.
The science is clear—building with sustainably sourced wood products can make a difference in the fight against global warming, but it can also change the quality of our buildings. When advanced mass timber products are combined with offsite construction processes, performance and efficiency are greatly improved. Mass timber is well-suited to prefabrication because it is easy to manufacture and light to transport and assemble.
The skills, knowledge, and behaviours of offsite construction are different from those of traditional site build. The move to a controlled indoor setting reduces risk and delivers leaner production and higher quality results. There are no adverse weather conditions to contend with during production; lighting and temperature are perfect all the time, schedules are predictable, and the operation can run 24 hours a day if needed.
Depending on the size and complexity of manufactured components, offsite prefabrication has the potential to considerably reduce a construction schedule, which can generate significant cost savings over a strictly site-built project. Offsite construction provides many other benefits, too, including enhanced sustainability, controlled expenses, reduced construction noise and other neighbourhood disruptions, more efficient use of material and labour resources, and improved worker health and safety.
Of course, to realize a successful project, professionals must take into consideration the unique characteristics of wood. As a natural, organic material with hygroscopic properties (able to take on and give off moisture), it can be vulnerable to the elements if exposed to rain and snow during transportation and storage onsite. To prevent unwanted water exposure, components are wrapped and the trucks are tarped at the factory prior to delivery. The protective coverings used during transit are removed only as necessary, keeping the timber protected from the elements. By using the just-in-time delivery model, the potential for moisture exposure is greatly reduced because components are not stored onsite for long periods of time. Nevertheless, if site storage is required, a detailed moisture management plan clearly outlining storage requirements and conditions is employed and other protective measures, such as factory-applied sheathing or coatings, can also be used depending on project requirements.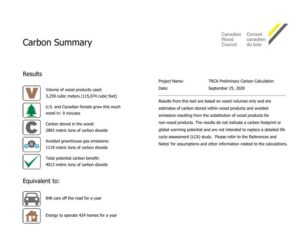 The significant gains that can now be made through offsite manufacturing, including just-in-time delivery, are fuelled by BIM technology. BIM provides visualization capabilities for an integrated schedule, enabling simultaneous monitoring of offsite and field activities, empowering the project manager to more effectively manage the construction schedule. The ability to integrate offsite and field construction allows a project team to work in ways that synchronize the progress of these operations. Site preparation, for example, can be done while the building components are being fabricated in the shop.
The DfMA model
The degree of prefabrication is determined through a collaborative assessment phase that leads to a design optimized for manufacturing and assembly (DfMA). The model successfully integrates architectural, structural, mechanical, and logistical constraints. In that sense, design and manufacturing are intrinsically linked when it comes to modular mass timber building construction.
DfMA represents a shift in the delivery model of the standard engineer-to-order procurement method. The process of adding value is front-loaded, with earlier decision-making and purchasing required. Design integration activities are defined at the outset of the project to understand constraints and boundaries. The integration takes place in a collaborative BIM environment where dimensional information can be co-ordinated.
Asset information, such as specifications, part numbers, suppliers, and loading sequences, can be exchanged during this process. Panels and components are identified through a codification system that corresponds to the digital twin (BIM model). This enables accurate traceability of the panels and supports planning, logistics, and assembly activities, notably in the form of 4D modelling. This process provides an opportunity to make ongoing improvements by recording performance against planning and budget to integrate lessons learned.
The role of the mass timber supplier is to ensure the constraints relative to the mass timber shell are thoroughly considered at all stages of the design and strategic decision-making process, from early design to assembly. In this way, the fabricator can help guide the project team toward improvements that can be realized at scale through a commitment to detailing out complexity in form and sequence, thus generating savings.
Conclusion
The construction industry is changing to respond to the challenges of climate change, urban intensification, skilled labour shortages, demanding project timelines, and economic constraints. In the last decade, engineering innovation and the commercial development of mass timber components improved the industry's ability to meet these constraints, and the result is the mass timber revolution we are witnessing today.
Going forward, the future of construction, of course, is high-performance buildings that pay attention to embodied carbon and operational impact while striving to achieve maximum social and economic value. These outcomes require a level of efficiency and co-ordination that can only be achieved through computer modelling and offsite manufacturing, an area where the wood sector is already operating and positioned to grow.

Sarah Hicks brings 15 years of communications experience in the forest products industry to her role as manager of the marketing and communications department at Element5. Whether through articles, project case studies, or the wood education events she organizes for design and construction professionals, her mission is to tear down misperceptions about wood construction and share relevant information about mass timber that helps practitioners expand their capacity for wood design. She can be reached
at sarah@elementfive.co.

Scott Jackson is the director of Indigenous and stakeholder relations at Forests Ontario. He oversees the It Takes a Forest initiative that delivers fact-based information to the public about forests and forest products, and the role they play in sustaining the economy, mitigating climate change, and creating healthy environments. Jackson has more than 20 years of experience in the field of natural resource policy and conservation science. He can be reached at sjackson@forestsontario.ca.

Control the content you see on ConstructionCanada.net!
Learn More.