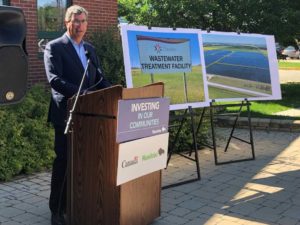 Combined funding of $34.3 million+ will help improve Manitoba's 10 key wastewater and waste management infrastructure, in a bid to increase capacity to respond to population growth pressures.
Government of Canada will provide $18.7 million of the funding while Manitoba government will contribute $15.6 million. Among these projects, a combined federal and provincial contribution of $9.1 million will help expand and improve the City of Dauphin's lagoon system. Work includes constructing and upgrading a lagoon reactor system, building a new sewage treatment facility, and installing new pipes. The project will result in increased capacity to treat and manage wastewater, and to accommodate population growth.
The province also seeks to enhance the wastewater treatment system in Neepawa, aiming to increase the municipality's capacity to treat and manage wastewater and storm water. A combined federal and provincial investment of $4.2 million involves implementing a Moving Bed Biofilm Reactor system, upgrading the treatment building, and adding a lab, among other works.
The joint funding will also assist the Local Government District of Pinawa to undertake an expansion of a landfill in the district, given the existing active waste disposal cell's fast-approaching capacity limit. The phased expansion will remain in the current land footprint to minimize environmental impact and will add an area for electronic waste, scrap metal, paint products, used oil and tires, and composting.
The Government of Canada's funding comes from the Investing in Canada Infrastructure Program's Green Infrastructure Stream. So far, 37 infrastructure projects under the Green Infrastructure funding stream have been approved in Manitoba for a total federal contribution of more than $572 million and a total provincial contribution of more than $610 million