Making solid, sustainable choices with cold-formed steel framing
by Katie Daniel | January 9, 2017 10:36 am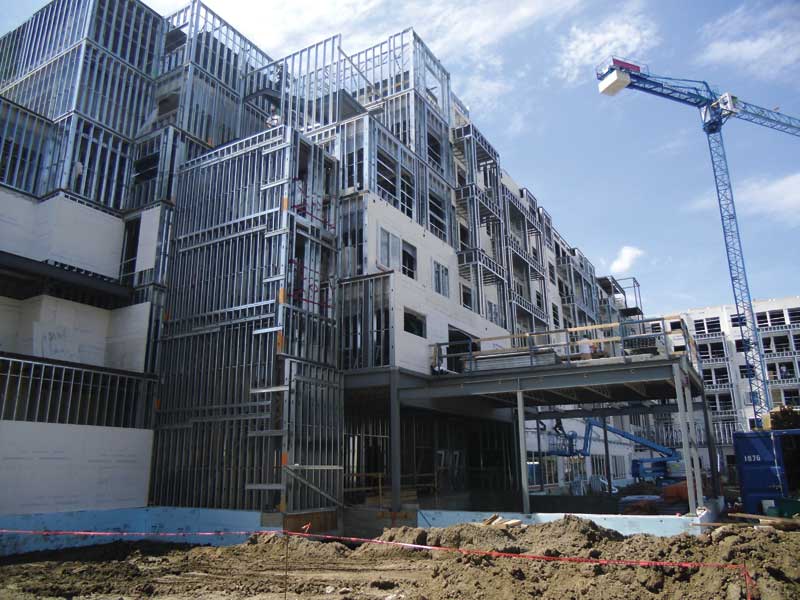 By John Rice
With a history spanning more than a half-century in noncombustible commercial construction, cold-formed steel (CFS) is a popular material choice for framing nonstructural interior walls, loadbearing interior and exterior walls, floor joists, and curtain walls. The many performance-based characteristics and green attributes of cold-formed steel framing have enabled architects to design structures that are safer and more durable, dynamic, and sustainable.
Cold-formed steel offers the strength and stability needed for framing applications. From a sustainable construction standpoint, this material is ideal for new construction and commercial renovation projects. Unlike wood, it is noncombustible, corrosion- and mould-resistant, termite-proof, and reduces onsite construction waste. (The products are custom-manufactured to the required length, so there are no off-cuts or onsite waste.) Made with high recycled content, it can again be recycled at the end of the structure's life.
Cold-formed steel framing products are made with high recycled content; they are 100 per cent recyclable at the end of the structure's life cycle, and can be locally or regionally sourced for most projects.
Advancements in steel framing
Among the biggest advancements to cold-formed steel members in recent years is the change in paragraph 9.2 of ASTM C645-14e1, Standard Specification for Nonstructural Steel Framing Members. This section now permits use of high-performance steel, tightly controlled and specified. Improvements in manufacturing technology and a redesign of the basic stud profile, along with changes in the strength of steel used to manufacture interior drywall framing studs, resulted in products manufactured to a thickness less than the ASTM-specified 18-mil (i.e. 0.5 mm), but that attained the same or greater limiting heights as standard thickness members. Additionally, the members have better screw shear and pullout values per higher strength steels used in the manufacturing of these proprietary studs. For these reasons, at least two Canadian manufacturers are producing improved drywall framing studs allowed by this section of ASTM C645.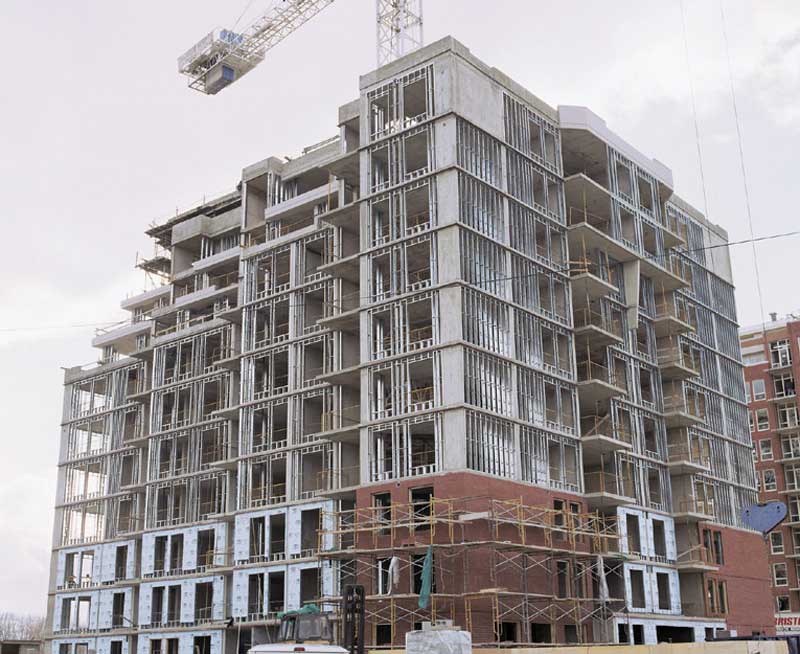 Steel in retrofit projects
Modifications to an existing space, such as the addition of a new staircase, elevator, or column-free space, or the raising or lowering of a ceiling, can be a challenge with traditional framing materials. However, the difficulty is significantly reduced with steel framing.
The high strength-to-weight ratio of steel enables it to span large distances economically and without sacrificing structural safety. The strength of steel provides clear span, or column-free areas that offer greater flexibility of floor layouts. Building owners will have the freedom to subdivide and customize space or opt for light, steel partition walls that can easily be relocated, leading to adaptable buildings with the ability to meet current and future needs.
Sustainable features
Steel's natural properties are beneficial to the overall structure once installed. For example, the material is very durable and noncombustible, and therefore will not contribute to the spread of fire. Additionally, as an inorganic material, steel will not rot, crack, warp, or split.
Further, since moisture does not seep into steel studs, there is minimal expansion and contraction of construction materials around doors and windows where leaks can occur. As steel studs are dimensionally stable, they ensure buildings will have straight walls and square corners, thereby eliminating aggravating nail pops and unsightly drywall cracks.
Acoustic control
Steel framing and other wall assembly components can also be employed to enhance the acoustic performance of the building envelope. Manufactured from 25-gauge steel, resilient channels are a cost-effective option to control sound from room to room. The channel functions as a de-coupler (i.e. a means for attaching gypsum board to the studs without actually allowing the board to touch them). This separation of the gypsum board from the studs impedes the transmission of airborne sound waves through the wall assembly by breaking their path.
Research indicates that when combined with standard batt insulation, resilient channels can add up to 5 sound transmission class (STC) points to an otherwise identical wall. This can often be enough to meet the ratings required by the project design goals or local codes. This is especially important for multifamily dwellings occupied by many residents.
Specific STC results for resilient channels are published by their manufacturers.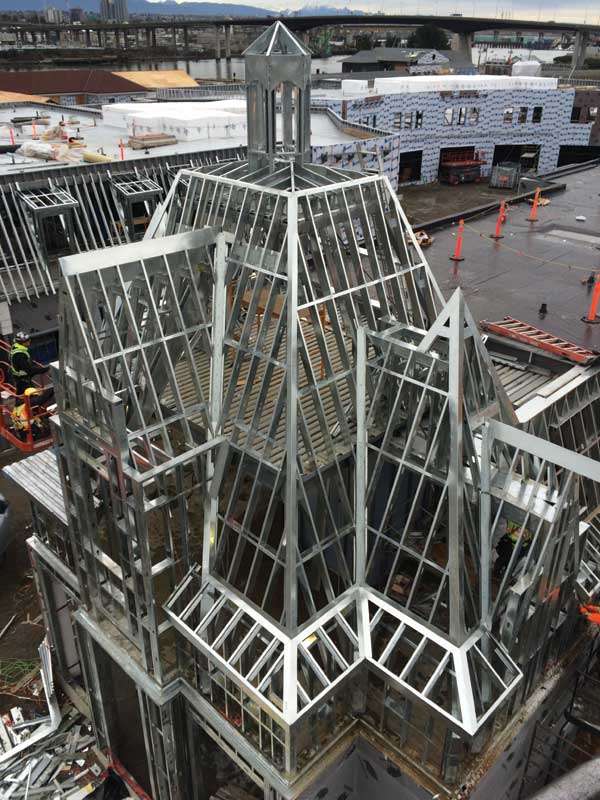 New technology in wall design
Building information modelling (BIM) is quickly becoming a formal procedure for modern steel construction. From software that optimizes the building envelope with information on dead load and structural load inputs for wind, seismic, and other requirements, to programs enabling sustainable design by addressing energy efficiency and green product specification, BIM processes are being adopted across the industry.
However, while use is increasing, the concept of component-specific BIM for applications (e.g. wall, floor, and ceiling systems) is only beginning to gain traction among design and building professionals. Sometimes referred to as 'add-ins,' these tools allow specific products and systems to be directly imported into a larger BIM design and shared with the entire construction team, enhancing project co-ordination and collaboration.
Steel framing used for interior wall partitions comes in various shapes, thicknesses, and sizes. Each of these components has a specific function in the wall assembly. Selecting the correct size and thickness depends primarily on spacing of framing members and the wall's height. Other considerations throughout the selection process include:
the application of the wall finishes;
whether they will be applied to one or both sides;
full height for composite design; and
any applicable impact resistance requirements.
Through use of building information models, each element of a wall assembly can be created as an 'intelligent' object containing an array of product information in addition to its physical dimensions. Every element in the BIM project 'knows' how it relates to other objects and to the overall design. This helps manage complex plans from multiple trades, as well as to identify and avoid potential clashes or inconsistencies before reaching the jobsite. This is of particular importance as the wall framing phase of a project can significantly impact several other trades.
Additionally, the level of detail available through BIM add-ins is of value to architects and engineers looking to develop data-rich 3D images of interior spaces or component loadbearing wall framing. It helps in the creation of infinite views, perspectives, schedule data, and facility and operational management for the life of the building. In addition to detail on code requirements and strength, a BIM project that has taken wall types to the next step by using framing add-in software can identify the location of wall penetrations, as well as provide accurate wall shapes and opening dimensions on individual panel drawings.
Conclusion
The sustainable qualities of cold-formed steel framing when used in wall assemblies make it a natural fit for high-performance building envelopes. By carefully exploring specific fire, sound, and structural capacities of these products, efficient and affective designs can be achieved. Specific and sometimes proprietary and unique properties can help create a more comfortable interior environment for building occupants. Steel is inherently durable and virtually maintenance-free. In addition, the many environmental and economic benefits of steel framing construction provide savings in time and money, an important consideration in the current economy. Using steel and other sustainable building materials also helps building owners reduce their environmental footprint. All of these features make steel framing an all-around beneficial choice for both commercial and multi-family building projects.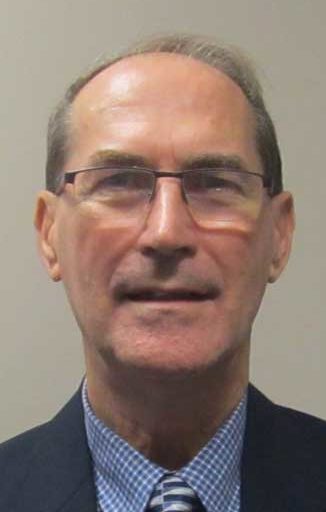 John Rice is the corporate product specialist/product development manager for Bailey Metal Products Limited. He has been with Bailey for more than 35 years, and his experience within the building materials industry has been instrumental in the design and innovation of the company's products. Rice is active in countless associations, including CSC and the Canadian Sheet Steel Building Institute (CSSBI). He can be reached at jrice@bmp-group.com[1].
Endnotes:
jrice@bmp-group.com: mailto:jrice@bmp-group.com
Source URL: https://www.constructioncanada.net/making-solid-sustainable-choices-with-cold-formed-steel-framing/
---