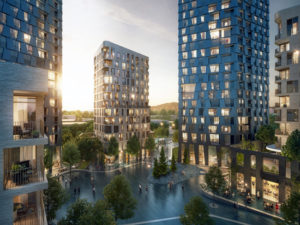 The Passages by Alison Brooks Architects, a 92,903-m2 (1 million-sf), mixed-use residential development in Surrey has been approved by the City of Surrey.
The Passages site is at the heart of the emerging Surrey City Centre where there is a drive toward a high-density, transit-orientated and walkable downtown core to address a critical housing need.
The proposal for the Passages is for an open city block, with free-flowing public space at its heart, lined by a mix of uses which aim to serve its residents and the wider City of Surrey. The Passages proposes buildings without a front or back—all façades are on display and active, serving as extensions of the public realm.
"There is an opportunity to create an exceptional urban condition by focusing on freedom of movement and public space accessed by a series of passages, leading you to an open piazza at its centre," the firm said. "This is an unusual urban strategy in North America, where city blocks tend to be enclosed, and dense. Therefore, the urban design has chosen to focus on a scheme with an activated heart, bringing movement through the site and offering a wide range of activities for residents and neighbours to use and enjoy."
There are three building typologies proposed across the site: tower, mansion block, and point block. Together they offer a variety of typologies and scale, which individually add to the unique character of the development, offering façade variety, texture, and family structures, all contributing to offer a stimulating backdrop to the landscaped passages at grade.
"We have sought to refer to natural forms such as stone for the low-rise buildings, made up from the ground like monolithic carvings," the firm added. "As for the towers, these refer to dense vertical forests. The textured bark of trees, tonal references from moss and lichen come with a strong desire to resist 'flatness' and complacency associated with residential architecture of this scale."