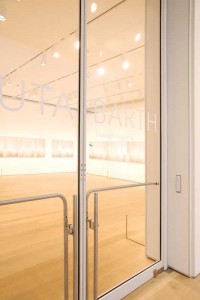 The latter size of arm accommodates doors from 1016 to 1219 mm (40 to 48 in.) wide. These arms provide 406-mm (16-in.) interior projection and 610 to 813-mm (24 to 32-in.) exterior projection.
In general terms, the maximum size of a balanced door leaf is 1219 mm (48 in.) wide and 3658 mm (144 in.) high. However, the actual size is determined with each project and depends on the frequency of use, the application, and door configuration—whether stile and rail, tempered glass, or narrow stile.
Balanced door systems require a 76-mm (3-in.) high header that is at least 127 mm (5 in.) deep. These dimensions are required for the check and door-guide assembly to be installed. A 76 x 127-mm space is required vertically at the hinge side, allowing room for the pivot shaft assembly.
When a balanced door is opened, the door leaf almost touches the jamb. It is important to remember that when the door is at a full 90-degree open position, the door leaf takes up less than 101.6 mm (4 in.) from the hinge jamb to the door's interior edge. For example, if a pair of 914-mm (36-in.) wide doors are specified, there will be 813 mm (32 in.) of clearance when one door is opened.
Styles and availability
Doors and framing are available in several materials (and finishes), including bronze, stainless steel, aluminum, wood, and glass. They are made in one of two ways depending on the material chosen. The types of glass stops used will depend on the construction method. For instance, bronze and stainless steel are brake-shaped, giving more flexibility in the design and allowing pocket stops to be used if desired. Aluminum, on the other hand, is extruded and has more limitations on design, requiring the use of applied stops.
Balanced door leaves are available as stile and rail (when the door structure is metal) or tempered glass (when the structure is glass)—either with or without a stile. In any of the door types, full top and bottom rails are required to accommodate the balanced hardware.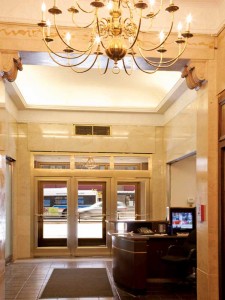 Brake-shaped stile and rail door construction includes minimum 69.85-mm (2.75-in.) stiles and top rails, bottom rails that are at least 152 mm (6 in.) high (though 254 mm [10 in.] is recommended), and a corner-welded internal subframe for rigidity. Door material is minimum 2.3 mm (3/32 in.) thick with internal and external parts both made of the same material. For bronze and stainless steel assemblies, spot-welding directly through the door face creates a unitized superstructure.
Quality balanced doors are constructed and pre-hung in the factory, permitting adjustments so operation is honed to perfection. This process allows for easy installation, and is useful for renovation applications where the building must remain accessible.
Codes and requirements
With proper consultation and design, manufacturers can provide guidance regarding code issues and help ensure all needs are met. This is important as stricter laws, ordinances, codes, and rules continue to be developed and enforced.
For example, the City of Toronto's Accessibility Design Guide, Section 2.1.2 states:
Main entrance doors and other accessible entrance and exit doors should be a minimum of 915 mm (36 in.) wide to allow the safe passage of persons who use mobility aids.
A quality balanced door manufacturer will work with the project team to develop an entry system that meets special requirements—such as universal accessibility, fire codes, or other requirements—while maintaining form, function, and esthetics.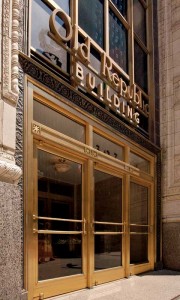 One of the most common requirements is building accessibility to handicapped patrons. Balanced door systems can be equipped with power operators that allow anyone in a wheelchair, using crutches, carrying large items, or otherwise restricted, to open the door and access or egress the building. Depending on the power operator, most can connect to smoke detection systems to automatically open to a full 90-degree hold-open position to facilitate evacuation, while allowing smoke to escape or fresh air to enter the building.
Conclusion
Balanced door systems solve many issues, including the weight of heavy and oversized doors, stack and wind pressures, opening force, and door-leaf projection. Not only do they solve these technical problems, but doors can also be customized to meet specific esthetic looks and code requirements. Quality balanced doors are made of durable materials that withstand the test of time and traffic. Balanced doors can be a great fit for any application in new construction, renovation, or retrofit.
Doors give an impression on entering the building and leave an impression on exiting. Balanced doors are sure to make an impact due to their ease of use and beauty, and are guaranteed to be more than only small parts of a building.
Mark Graves is the president of Ellison Bronze Inc. He has more than 30 years of experience in the general construction, architecture, and manufacturing industries. Graves has spent 25 years of his career manufacturing custom balanced doors with Ellison. He can be reached via e-mail at mgraves@ellisonbronze.com.

Control the content you see on ConstructionCanada.net!
Learn More.