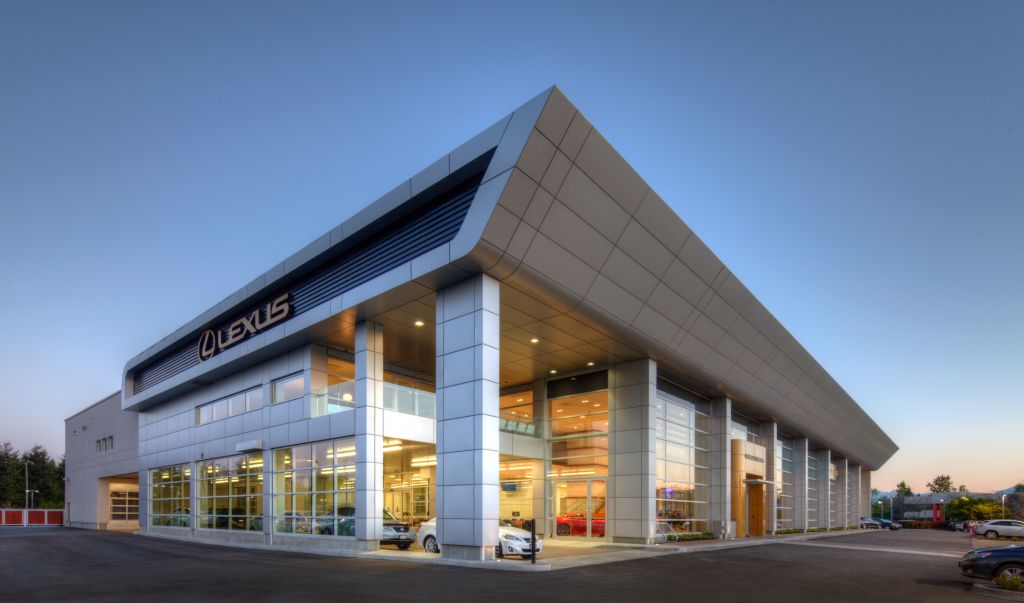 Open Road Lexus in Richmond, B.C. received Silver under the Leadership in Energy and Environmental Design (LEED) rating program—a high level of certification rarely attained by car dealerships.
Kasian was chosen to design the 6410-m2 (68,996-sf) flagship facility to consolidate the outdated dealership Lexus and Hyundai dealerships in the Richmond AutoMall and become North America's largest Lexus facility.
A customer lounge with Internet work stations, drink stations, and an exterior deck was included, in addition to a café, service bays, and various sustainable features. A second-floor showroom and parkade has space for 37 high-performance and hybrid vehicles, along with rooftop parking for 114 cars.
Various environmentally responsible features include:
use of solely non-potable water for landscaping;
more than 30 per cent reduction of water consumption for fixtures;
half of the dealership's electricity comes from renewable energy sources;
more than 56 per cent of wood-based materials are Forest Stewardship Council (FSC)-certified
specification of low-emitting interior materials, such as paints, adhesives, sealants, and carpeting; and
use of environmentally-friendly cleaning products.
Other elements contributing to the sustainability of the facility are bicycle storage and change room area for staff and shuttle service in hybrid vehicles. Some of the design objectives included choosing a site that would not damage the surrounding environment, use of bioswales for stormwater management, and diversion of 83 per cent construction waste.
The facility features a rooftop variable air volume (VAV) handling system, accompanied with heat recovery. This type of HVAC assembly reduces the fan's energy consumption.
Additionally, automated blinds were specified for the second-floor showroom. These blinds shield the upper third of the glass curtain wall to reduce solar heat gain throughout the day. This allows the facility to take advantage of daylighting while ensuring the environment's internal temperature remains reasonable.
Safety design features were also included, such as heavy-duty custom benches in the showroom. Designed and spaced to provide public seating along the length of the glass guardrail overlooking the main showroom (bottom right), these benches also serve as structural car-stop barriers. Steel bars at bench legs were structurally dowelled into the floor slab. In the event a display car, being moved into the upper showroom, loses control, the vehicle would hit the car-stop benches as a solid structural barrier, preventing it from falling 4.8 m (16 ft) to the showroom floor.


Control the content you see on ConstructionCanada.net!
Learn More.