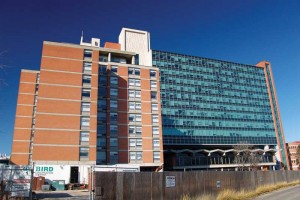 Contractors review applications
Manitoba Masonry Contractors Association members have a growing concern regarding a product that is enjoying a wider use in the construction industry. The increasing trend of adhered veneer product application by non-masonry firms and untrained individuals has resulted in many application failures.
Gus Kotoulas, MMCA president, explained the industry's concerns.
"The public perception is the product is stone and, therefore, the responsibility of masons. Any failures are the fault of the masonry industry no matter who applied it," he said. "This problem should also be of concern to designers as the long-term problems created also reflect on the original design and specifications, and create the possibility of legal claims."
In general, MMCA members agree that having designers specify that the product has to be applied by qualified masonry contractors
would go a long way toward resolving this problem. However, the National Building Code of Canada (NBC) is not specific with respect to the application process, and specifications vary among product manufacturers.
As a result, the Manitoba Masonry Institute presented a seminar in Winnipeg in November to identify common elements among products in the market, and plan to eventually develop an adhered veneer application guideline for designers and the industry.
This initiative involves MMI and MMCA partnering with the Faculty of Engineering at the University of Manitoba to conduct assembly tests covering product applications in extreme temperatures and under various conditions.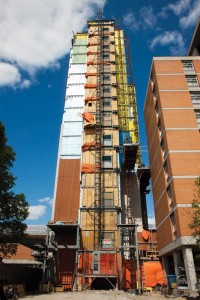 Industry supports research
Concerned with the quality of design and work being performed, members firms of MMCA pledged in 2009 to support a project at U of M to teach masonry construction design to structural engineering students. For many years before, there had been no research on masonry at the university.
The pledge involved providing $50,000 each year for five years, payable through the Canadian Concrete Masonry Producers Association (CCMPA). Some of the funds were also designated for masonry research. The faculty is now examining the requirements necessary to draw matching grants from the province of Manitoba.
Since then, a joint MMCA/MMI committee has been meeting with the faculty regarding course development and industry needs. As a result, the university has now approved an undergraduate course in masonry construction design which will be implemented in the 2011–13 course year.
"It is important for students to realize masonry's load-bearing characteristics have been used for centuries on major structures, many of which still stand today," explained Fariborz Hashemian, an assistant professor.
The primary focus of the future course will be to introduce the design and building codes that govern masonry design, and teach students the advanced design procedures of masonry members and structures.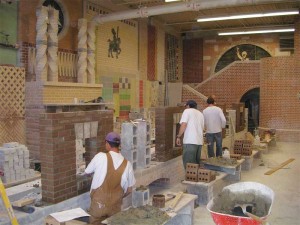 In the meantime, the structural engineering graduates are being offered an advanced course in structural masonry materials and design. This course includes load-bearing wall design, shear walls, single and multi-storey building design, and the fundamentals of building science.
In October, the engineering students experienced 'hands-on' masonry by building a curved brick wall section in the faculty building. They then issued a comprehensive group report to be published in engineering and architectural magazines.
Students and skill training
A pilot project initiated by Hashemian in the spring of 2011 resulted in masonry contractors hiring second- and third-year structural engineering students for the summer. While the numbers employed were low, the results were encouraging. Students were involved in estimating and field projects and they took part in various masonry procedures.
Industry workers also require more training and experience in masonry to ensure projects are completed on schedule with good quality standards. MMCA has been giving added emphasis to apprenticeship training for the past four years, and the results are evident today.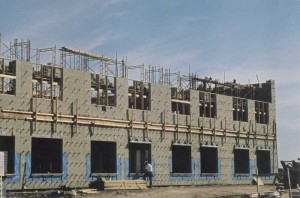 In reporting that classes continue to be filled at all levels, Harry Laarveld, MMI president, explained the average age of apprentices is now in the low 20s compared to being in the low 30s, such as 10 years ago. He said Manitoba has one of the highest pass rates graduating in Canada. The shortage of skilled workers that has hampered the work progress of some trade sectors has been less of a problem in the masonry sector as retiring journeymen have been easier to replace with new ones.
MMI and MMCA member firms also provide strong promotional efforts during the annual career day in Winnipeg. The event, organized by the Winnipeg Construction Association (WCA), draws 900 selected high school students who are given opportunities to try some trade tasks, including laying block and brick. The event has become popular among schools, and many are attempting to have their students accepted within the attendance limit.
Manitoba recently issued a policy that all contractors bidding on provincially funded projects must be active in apprenticeship training by January 1, 2014. Part of the policy will be phased in during 2012 and 2013, depending on the project's value.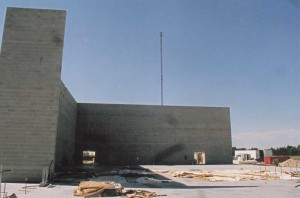 Conclusion
New technology and application techniques, improved training methods, presentation of technical sessions for the industry, increased masonry research, and the need for greater liaison between designers and the masonry industry have become key factors in how Manitoba's contractors will be planning for the future.
Gervin L. Greasley, CSO, is the business consultant to Manitoba Masonry Contractors Association (MMCA) and Manitoba Masonry Institute (MMI). Owner of LeeCom Management Services, he has been involved in the construction industry for 40 year and is an honourary life member of the Winnipeg Construction Association (WCA). Greasley's firm also conducts independent construction safety audits for the Construction Safety Association of Manitoba (CSAM). He can be contacted via e-mail at leecom@mymts.net.

Control the content you see on ConstructionCanada.net!
Learn More.