By Ian Gruber, CTR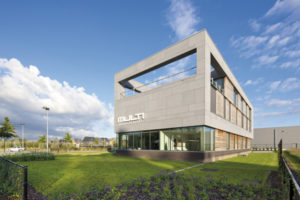 Lightweight façade materials with significantly lower embodied energy are being adopted into building designs instead of the more traditional, thicker, and heavier cladding products like masonry blocks or precast concrete. In many cases, the change in façade thickness and resulting embodied energy has been dramatic. For example, a 100-mm (4-in.) precast concrete slab can have an embodied energy of approximately 471 MJ (131 kWh)/m2 compared to a thin, 8-mm (5/16-in.) fibre cement panel façade with an embodied energy of around 70 MJ (19 kWh)/m2, resulting in an 85 per cent reduction in embodied energy for the exterior walls (For more information, read Building materials, energy and the environment: towards ecologically sustainable development by B. Lawson.).
Thinner lightweight façade materials are often preferred by building designers and owners as they:
can use materials with lower embodied energy;
are available in a wide variety of surface colours and patterns (e.g. wood grain decors);
can be fabricated into numerous panel shapes (e.g. square, rectangle, triangle, curved, etc.); and
are highly durable with typical life expectancies of 50 to 100 years.
In addition to the above esthetic advantages, the thinner façade component provides more space for added (i.e. thicker) insulation, thereby improving the building envelope's performance and helping the structure meet the higher standards for thermal efficiency, as determined by the National Energy Code of Canada for Buildings (NECB) 2015.
The global lightweight (LW) panel industry has expanded considerably in the past few decades as dozens of manufacturers have innovated technologies to both generate and fill the demand for highly efficient façade systems. As a result, building design and construction professionals in Canada have a vast array of LW façade systems to choose from, often with multiple thicknesses and fastening methods. Indeed, the numerous choices and options for LW panel façade materials can sometimes be overwhelming for a specifier.
Adding another layer of complexity are the various methods of installation offered for LW façade systems. Most LW commercial façades are designed to utilize a rear-ventilated rainscreen (RVRS) cavity (or similar pressure-equalized cavity) as part of an effective building envelope system. As a result, they are suspended outside of the building structure using different combinations of substructure supports.
LWRVRS façade panel systems commonly promoted in Canada are as follows.
Fibre-reinforced cement/glass-reinforced fibre cement (FRC/GRFC)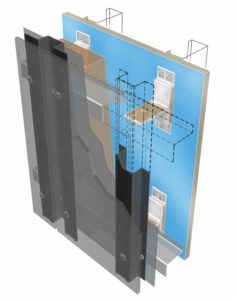 FRC/GRFC panel systems are often selected because of their natural tones and raw surface textures, thereby allowing designers to combine classical earth tones with contemporary building architecture.
Phenolic/high pressure laminate (HPL)
Phenolic/HPL panels feature a large assortment of sizes and surface finishes, including pastel and bright colours, as well as decor patterns for wood and natural materials. Some phenolic/HPL manufacturers also offer designers the option of digitally printed exterior panel images for custom surface patterns or display artwork.
Porcelain stoneware slab (PSS)
PSS panels provide designers with a vast array of honed or polished natural-effect surfaces like marble, granite, stone, resin, and concrete. Noncombustible and highly resistant to chemicals, PSS panels are also available in sizes as large as 1.5 x 3 m (5 x 10 ft).
Ceramic/terra cotta
Ceramic tile façades provide designers the soft natural orange-red-grey textures of terra cotta, or the glossy colours of glazed ceramic. Ceramic tiles come in a variety of widths and lengths, with most manufactures offering designers the ability to create custom surface profiles.
Metal siding
Metal siding materials commonly come in solid or metallic paint finishes in various panel profiles. Metal sidings with wood decor finishes are also available.
Natural slate
Slate façades combine the classical esthetic and high durability of natural slate with modern building envelope technology. Natural slate is efficient to install and comes in a variety of smaller panel sizes from 400 to 600 mm (16 to 24 in.) wide and 150 to 300 mm (6 to 12 in.) tall.
The various combinations of panel thicknesses and installation (substructure) methods can generate a lot of questions from designers and builders. Determining the proper panel thickness has a significant financial impact, and also affects the efficiency of the LWRVRS façade system.

Control the content you see on ConstructionCanada.net!
Learn More.