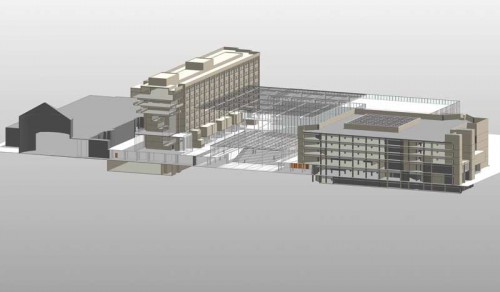 By Caesar Ruest, Sarah Hodges, and Darren Dambly
The building sector accounts for 30 to 40 per cent of global energy use, making it the largest annual contributor to greenhouse gas (GHG) emissions. (This statistic comes from work conducted by the United Nations Environment Programme [UNEP]). Here in Canada, the country's commercial building sector accounts for 14 per cent of end-use energy consumption and 13 per cent of national carbon emissions. (For more information, see National Round Table on the Environment and the Economy's (NRTEE's) Geared for Change: Energy Efficiency in Canada's Commercial Building Sector. Visit www.nrtee-trnee.com/eng/publications/commercial-buildings/exec-summ-commercial-buildings.php. Visit www.nrtee-trnee.com/eng/publications/commercial-buildings/exec-summ-commercial-buildings.php).
As awareness of energy-inefficient buildings increases, it is coupled with the emergence of new building and energy mandates. Therefore, it is little wonder that improving the building performance is a cornerstone of sweeping energy usage reform, sustainability efforts, and economic stimulus packages around the world.
The good news is commercial buildings show the highest retrofit potential of all building types. (Engineering News Record, 2009). Global electricity use in commercial buildings has almost tripled since 1980 and is projected to rise another 50 per cent by 2030. (See the U.S. Energy Information Administration's (EIA's) 2007 Annual Energy Outlook). Comprehensive retrofits can reduce a building's annual energy consumption and costs by an average of 20 per cent. (Visit oee.nrcan.gc.ca/commercial/financial-assistance/existing/benefits.cfm). As a result, retrofits can pay for themselves over time with paybacks from most measures ranging from a year to a decade. (Visit oee.nrcan.gc.ca/commercial/getting-started/payback.cfm).
While commercial building owners are in a unique position to be leaders in sustainable design and improving building operations, conducting comprehensive performance analyses and implementing energy savings projects can seem daunting. For example, dated or non-existent building plans and incomplete energy consumption histories often make it difficult to predict future performance throughout the life of a proposed renovation project. As a result, it is imperative to ensure cost-effective methods of analyzing building performance are in place, and take both economic and environmental goals into consideration.
Benefits of using BIM to improve building performance
New methodologies like building information modelling (BIM) help make this once overwhelming prospect manageable. BIM is an integrated process for exploring a project's key physical and functional characteristics digitally before it is built. The co-ordinated, consistent information used throughout the BIM process helps architects, engineers, contractors, and owners to see what their design will look like and how it will perform before construction. When applied to existing buildings, purpose-built BIM solutions can help capture the building geometry and characteristics needed to conduct various aspects of energy performance analysis.
Applying BIM to analyze existing commercial buildings also helps deliver numerous economic, environmental, and societal benefits that go far beyond complying with mandates. Extending BIM to analysis can help identify ways to:
reduce resource consumption;
increase onsite renewable opportunities;
build consensus;
review investment-grade audits;
increase investor confidence;
improve employee morale; and
meet requirements for sustainable design and energy efficiency.
Reduce resource consumption
Building renovations and retrofits can leverage modern, efficient technology, systems, and controls to reduce energy, water, and material consumption. For example, BIM analysis tools can help analyze heating and cooling requirements, identify daylighting opportunities, and select major building equipment that may reduce energy use. BIM can also help analyze potable and non-potable supply options for occupants and building processes, evaluate stormwater systems, and simulate performance of collection systems, ponds, and culverts.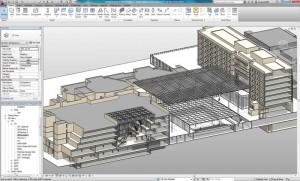 Identify onsite renewable opportunities
A co-ordinated, consistent model created through the BIM process can help design systems that minimize water use, protect existing wetlands, and focus on net-zero water consumption. With more sustainable designs, it is easier to encourage use of recycled water for irrigation of landscaping, minimize contaminants in wastewater, and investigate feasibility of capturing, recycling, and reusing water onsite. This minimizes the costs and impact on water and wastewater systems.
Boost stakeholder support
Using BIM analysis and visualization tools can greatly increase impact and clarity when presenting proposed modifications to key stakeholders. Allowing reviewers to perform virtual walk-throughs or to better see the modifications occurring over a timeline can help improve their understanding of the project and build consensus on how to address issues that arise. For example, a 3-D model site plan may quickly help identify whether a building renovation would affect access roads in a way that makes the proposed renovation impractical.
Making smart investments in improvements also increases potential investors' confidence that funding will be used appropriately to support optimal performance of the building for a long and sustained life. BIM analysis tools can help owners more quickly identify where limited dollars should be spent, helping add integrity and legitimacy to the process.
Review investment grade audits
An energy services company (ESCO) can perform an in-depth analysis of a building or properties, design an energy-efficient solution, and install the required elements. Energy savings performance contracts (ESPCs) improve the energy efficiency of commercial buildings and commit to a defined payback period. However, it is still the building owner's responsibility to perform due diligence on proposals to protect the constituent's best interests.
BIM can be used to perform internal reviews of ESCO proposals to help evaluate key predictions and assumptions. For example, a virtual walk-through of the proposed renovations can be employed to increase confidence in predicted performance levels and reduce uncertainties associated with these long-term contracts.
Create better work environments
BIM can help identify opportunities for increasing the use of natural lighting or flow of fresh air within interior spaces. Modelling can visualize and simulate the impact of a lobby atrium or better ventilation on building performance. (At the same time, the designer should take into account the positive and intangible benefits these improvements can have on employee morale. For example, job satisfaction is commonly linked to increased productivity, higher retention rates, and fewer sick days.)

Control the content you see on ConstructionCanada.net!
Learn More.