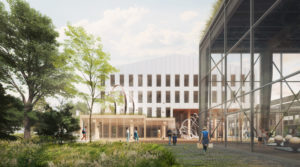 A multidisciplinary team comprised of Sid Lee Architecture, Ateliers Créatifs Montréal, Collectif Récolte, and The Centre for Sustainable Development announced Les Ateliers Cabot is the winning project of the second edition of C40 Réinventer Montréal.
Les Ateliers Cabot is a multifunctional site housing artist studios, office space, an industrial and technological incubator, facilities for food production and distribution, and businesses committed to the pooling and circularity of resources within a large urban green space.
The project presents a development model anchored in the social and circular economy. Les Ateliers Cabot aims to achieve carbon neutrality to reduce its carbon footprint. This will be achieved using low-carbon solutions that can be reproduced on a city-wide scale.
The reuse of existing buildings and the elimination of basements for the new buildings leads to a 44 percent reduction of embodied emissions; 40 per cent of embodied emissions is eliminated thanks to the use of low-carbon materials. The three new buildings will be mainly made of wood, including structures in solid wood, beams and columns made of Glulam and cross-laminated timber (CLT) floors.
The project is developing solutions to achieve the zero organic waste goal in three years and to reduce the diversion rate from landfill and recycling centers by 87 per cent.
The project revolves around water as a historic element to be commemorated, and as a natural resource to be placed at the heart of its landscape and environmental strategy. A system of valleys, marshes, and basins with seasonal fluctuations livens up the site, and presents the possibility to reconnect two major biodiversity corridors of the Aqueduct Canal and the Lachine Canal.