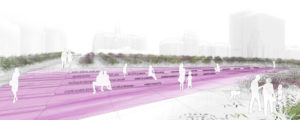 International design firm Lemay, interdisciplinary artist Angela Silver, and SNC-Lavalin have won the City of Montréal's anonymous International Multidisciplinary Landscape Architecture Competition to design the city's new Place des Montréalaises, a vast public space in the Champ-de-Mars sector to honour 21 Montréal women who have shaped the city.
Lemay's proposal stood out with its inclined plane connecting the top and bottom of the city, a grand gesture in response to the surrounding monumental landscape and institutions.
Users of Place des Montréalaises will discover four distinct public spaces: one in each corner of the site. There will be an urban amphitheatre along Saint-Antoine St., while a multifunctional esplanade is built along Hôtel-de-Ville Ave. On Viger St., a forest with foliage evoking Mount Royal's emblematic trees will serve as a pedestrian entrance to the Champ-de-Mars metro station and its famous stained glass window, a work by Marcelle Ferron. Finally, a major urban axis will connect Gosford and Sanguinet Sts. in front of the CHUM Research Centre.
The suspended architectural piece becomes a flowery meadow, with integrated stairs inscribed with the names of 21 historic Montréal women. The meadow itself is a huge bouquet of 21 varieties of plants that will flower in sequence.
"The inclined plane is important because it allows us to repair the fracture in the cityscape left by the Ville-Marie Expressway when it was built," said Lyndsay Daudier, a member of the selection committee, referring to the sunken east-west highway that separated Old Montréal from its downtown counterpart for decades. Recently reconfigured, the covered thoroughfare and Place des Montréalaises will make it possible to safely walk directly between the Old Port and downtown.
"This is a truly transdisciplinary project, where all disciplines involved sat down together from the very beginning," said Andrew King, Lemay partner, referring to the close collaboration among three types of expertise—landscape, architecture, and art—to produce a seamless design experience.
Landscape architect Patricia Lussier, design director at Lemay, said the multifaceted team "designed the public space to be a multifunctional canvas for all Montréalers to make their own."