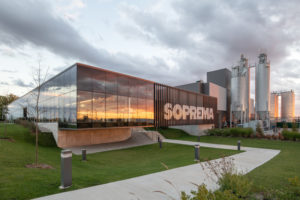 Soprema's new manufacturing plant in Woodstock, Ontario, has received a Leadership in Energy and Environmental Design (LEED) v4 certification for the facility's sustainable design and focus on employee health and well-being.
The 10,015 m2 (107,800 sf) site was designed by architecture firm Lemay. Inside, users benefit from common areas and exposed steel office spaces featuring floor-to-ceiling windows for ample diffusion of natural light. Outside, local biodiversity is promoted through abundant greenspace, which includes planted trees, ponds for stormwater management, a green inner courtyard, and a hybrid reflective-green roof with terrace and garden components.
The Woodstock location was built using local and recycled materials, and 80 per cent of the construction waste was also recycled. Its operations use 40 per cent less water and avoid the emission of approximately 505 t (557 ton) of carbon dioxide (CO2).
The waterproofing materials and sealant manufacturing plant demonstrates how a structure's industrial vocation does not need to be at odds with the environment. Working with Soprema, Lemay also created areas which emphasize the company's identity and culture, the environment, and the comfort and well-being of its clients and employees.