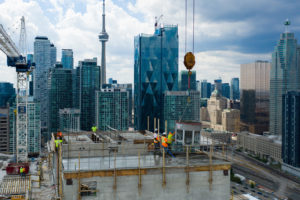 The office tower on 100 Queens Quay East, the first building in its Sugar Wharf development, has reached structural completion.
The 25-storey building broke ground in January 2018 as the first phase of Sugar Wharf. The new mixed-use community will include office, retail, residential, Toronto's first vertically integrated school, and a 0.8-ha (2-acre) public park. Sugar Wharf will be the largest mixed-use development on the Toronto waterfront when complete.
The office tower features approximately 64,103 m2 (690,000 sf) of Class AAA space. Designed by B+H Architects, the tower seeks to earn the Leadership in Energy and Environmental Design (LEED) Platinum certification.
"We are pleased to mark the structural completion of this landmark waterfront office tower. While 2020 has changed many aspects of how we work and operate, in the months and years to come, well-located and high-quality office buildings will continue to serve communities, like Sugar Wharf," said Jeff Tripp, managing director, real estate investments at TD Asset Management (TDAM).
LCBO will be a major tenant of 100 Queens Quay East, occupying approximately 20,903 m2 (225,000 sf) of the building, with the ground floor featuring a 2323-m2 (25,000-sf) flagship LCBO retail store. The tower would be the future home of the Toronto Region Board of Trade, with a corporate event space that includes an expansive outdoor terrace.
Expected occupancy for the 100 Queens Quay East office tower is spring 2021.