Landmark Ottawa library and archives project points the way to a greener future
by sadia_badhon | February 10, 2021 6:12 am
Significant enhancements to achieve net-zero carbon are being made to the joint Ottawa Public Library[1] (OPL)–Library and Archives Canada (LAC) facility, which will soon take shape in downtown Ottawa.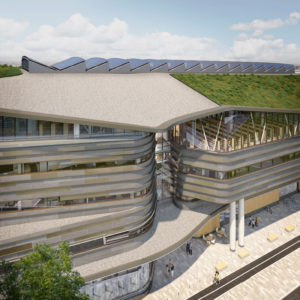 Prior to these changes, the building's design already complied with the Leadership in Energy and Environmental Design (LEED) Gold standard which takes into account ecological land and water use, energy efficiency, and sustainable materials. Funding from the federal government will allow for:
upgrades to the building's envelope and insulation;
triple-glazed windows;
solar panels on the rooftop and embedded in the façade;
additional sustainable materials; and
an indoor green wall.
This funding is in line with the Canadian government's effort to ensure that major infrastructure projects like this one contribute to a clean, safe, and sustainable environment for present and future generations.
Scheduled to open in late 2024, with an official opening in 2025, the OPL–LAC[3] joint facility promises to be a cultural showplace for the country's heritage, a meeting place for local residents and visitors alike, and a prime example of the government's commitment to building sustainable infrastructure.
"There is great value in modern and greener cultural spaces such as the one we are building in the heart of our capital," said Steven Guilbeault, Minister of Canadian Heritage. "Not only will this building showcase our collective history and heritage, it will also point the way to a more sustainable future where clean growth is the rule."
Endnotes:
Ottawa Public Library: https://www.constructioncanada.net/diamond-schmitt-reveals-design-for-ottawa-library-and-archives/
[Image]: https://www.constructioncanada.net/wp-content/uploads/2021/02/Opener-4.jpg
OPL–LAC: http://www.lac-bac.gc.ca/
Source URL: https://www.constructioncanada.net/landmark-ottawa-library-and-archives-project-points-the-way-to-a-greener-future/
---