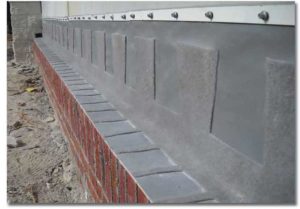 TPO
TPO is another product inherited from the roofing industry. It is a flexible membrane with a 30-year life cycle when placed on a roof and an unlimited lifespan when installed in the cavity of a building. TPO has an advantage over all other membranes on the market, as laps have the option of being sealed with a butyl sealant and primed polyether, or the joints can easily be hot-air welded (commonly known as heat welded), which can provide a joint that is completely bonded by hot air. During a demonstration, the author's team heat welded a 0.61-m (2-ft) section of TPO in just a minute or so, and water tested it several minutes later with positive results—no leaks. Equipment for heat welding on the low-end can be purchased for fewer than $100. This would reduce the sealant requirements for installing flashing by half—284 g (10 oz) tube per lap. Polyethers and polyurethanes cannot be used for sealing this membrane as its surface energy will not allow a durable long-term bond.
EPDM
EPDM is another roofing crossover material that has entered the masonry industry over the past several years. EPDM is flexible, easy-to-cut, and can be installed without any difficulty, as it has little memory to the roll in hot or cold temperatures. EPDM is a rubber that responds well to butyls as a lap and general installation sealant. EPDM is incompatible with PVC-moulded corner boots or end dams. The EPDM must have similar EPDM components for terminations and corner applications. It is compatible with most air barriers on the market.
Other improvements in the flashing industry include the advancement of unitized flashing solutions. Unitized flashings are single-component systems that can be offered with any of the different membranes discussed above. Inclusions to the system consist of a membrane, pre-designed laps, screws, weeps, termination bar, drip edge, and a mortar collection device that passed the requirements of the water test, in accordance with ASTM E-514, Standard Test Method for Water Penetration and Leakage Through Masonry. Unitized flashing solutions also come with manufacturer-supplied, pre-engineered flashing take-offs for masonry openings, special cut panels for window and door heads, and technical supervision and training. It can carry a higher material cost. However, the labour savings help offset the initial rise in cost.
New to the market is the roll flashing made with the mortar collection system attached directly to the membrane, with clean lap spaces available every 150 mm (6 in.). The membranes in this solution can be any of the membranes and composites discussed earlier—this allows the design or construction team to choose the correct membrane for the project.
All of the flashing membranes mentioned in this article are compatible with high loft, non-woven and entangled mesh products used in mortar collection devices and wall fabrics covering the entire inner wythe of the structure.
It is critical to not place the wall mesh behind the termination bar. Placement of the mesh should extend over the termination bar and lap about 25 mm (1 in.) over the flashing.
As with any industry, parts of the flashing and sealant industry are constantly changing the materials for the benefit of design and construction teams, and help prevent leaks.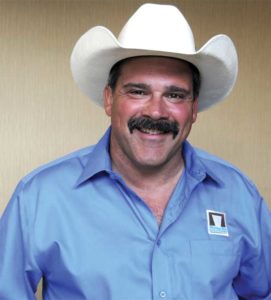 Steven Fechino is the engineering and construction manager for Mortar Net Solutions. He provides engineering support services and product training. Fechino has a bachelor's degree in civil engineering technology and two associate degrees in civil engineering and drafting and design specializing in building construction. He can be reached at sfechino@mortarnet.com.

Control the content you see on ConstructionCanada.net!
Learn More.