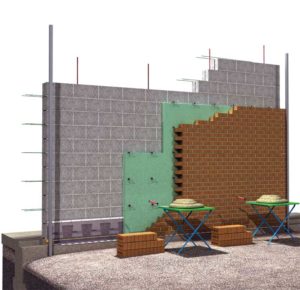 By Steven Fechino
As a whole, the masonry community is a proud group enjoying the traditions of hard work and craftsmanship. They work when the days are cold, hot, or breezy without batting an eye, but the rain always gives them a reason to flash walls with care. Flashing takes discipline, as the most anyone will see is the bent edge of a drip edge or a weep vent, but doing it correctly usually determines whether or not the job is profitable for everyone involved. As with all things, flashing masonry has a few standard rules.
Rule one
Masons get paid for what they lay on the wall, and not for the effort.
Rule two
Completing a job correctly will cost the mason five times less than a mistake when the following are taken into consideration:
performing the original task;
removal of defective work;
not doing another task while removing the original defective work;
replacement of defective work; and
not doing another task while replacing the original defective work.
Rule three
In the author's experience, a wall without properly completed flashing has a 95 per cent chance of leaking over a correctly flashed wall.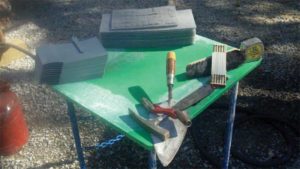 Sealants and flashing technology have improved in recent years. Products designed to improve workmanship and qualities are now available for both residential and commercial masonry contractors.
With many innovations, new flashing fabrics, membranes, and composites have been utilized to give flashing contractors better options.
Sealants
Early in this author's career, bituminous mastics were commonly employed to lap flashings, patch around dowels, and seal penetrations passing through the wall. When used today, bituminous mastics should be checked for compatibility with the new flashings in the market. When determining the compatibility between products, simply call the manufacturer and ask. Once the question is answered, see if the manufacturer has published material supporting your question that you can add to your files or simply request a letter stating the approval or disapproval of the product.
Butyl
Butyl has had a long run in the construction industry, mainly due to its adaptability in the roofing industry. Butyl, non-curing synthetic rubber, is available in sealant tube form as well as convenient rolls of tape. Butyl is more economical to use, and is compatible in many applications found with flashing materials today. When making a flashing lap or sealing around dowels, butyl is a smart choice. It cannot be used for general joint sealing, expansion joints, or any exposed joints as this material remains uncured and loose for the life of the product. Butyl is compatible with today's polyvinyl chlorides (PVCs), thermoplastic polyolefins (TPOs), ethylene propylene diene monomer (EPDM), laminated copper fabrics, and most rubberized asphalts.

Control the content you see on ConstructionCanada.net!
Learn More.