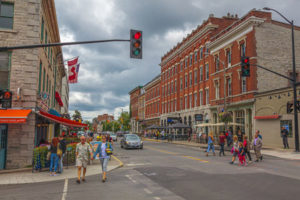 The Ontario government is redeveloping and expanding the Extendicare Kingston long-term care home with 192 upgraded, modern long-term care beds.
The province's plans to overhaul the long-term care sector by developing 20,000 new and 15,000 upgraded beds across the province includes an additional $4.9 billion investment over four years to hire more than 27,000 staff, including registered nurses and support staff.
"It is essential that we replace or upgrade every older long-term care home in our network to meet the needs of the people we serve," said Extendicare president and CEO, Dr. Michael Guerriere. "Modern homes built to today's standards are needed for our residents' care and comfort…We also want to extend our thanks to the City of Kingston for its steadfast support for this project throughout the planning process. We are proud to do our part to build a better future for seniors in this community."
The Extendicare Kingston long-term care home is expected to accept its first residents in spring 2023. As of February 2021, more than 40,000 people were on the waitlist to access a long-term care bed in Ontario. The average wait time is 147 days for residents currently living in community settings.
"This government is repairing and rebuilding Ontario's long-term care sector after decades of neglect," said Rod Phillips, Minister of Long-Term Care. "When the new facility for Extendicare Kingston is completed, it will have 192 modern beds for seniors in the community to call home, near their family and friends."