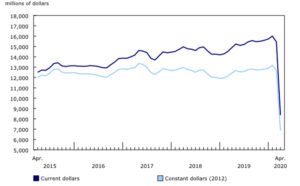 Investment in building construction plunged 45.9 per cent to $8.4 billion in April compared with the previous month, according to Statistics Canada. Previously, the largest national decline on record for the current series (which dates back to 2010) was a 3.9 per cent decrease in August 2017.
Both the residential (–49.2 per cent) and commercial (–38.8 per cent) sectors reported record declines. Investment decreased in all provinces and territories, with Ontario (–$3.2 billion) and Québec (–$2.5 billion) reporting the largest declines.
Public health measures put in place to slow the spread of COVID-19 severely impacted the construction industry in April, as the country's largest provinces shut down all non-essential jobsites.
Residential investment
All provinces and territories reported double-digit declines in residential investment in April, with Québec (–77.6 per cent to $457 million) and Ontario (–46.8 per cent to $2.4 billion) reporting the largest declines. In Québec, all new residential construction sites remained closed through April 20, while in Ontario, all non-essential renovation construction was halted in accordance with public health requirements.
Declines in the residential sector varied by province. However, at a national level, the declines were felt more sharply in single-family homes (–54.7 per cent) than in multi-family dwellings (–43.5 per cent).
Residential renovations largely ground to a halt across the country, with the exception of certain activities such as emergency and exterior repairs, as many projects were cancelled or deferred to comply with public health requirements.
On the other hand, new residential construction was able to progress across most of the country in April. Excluding Québec, new residential construction increased 11.7 per cent on an unadjusted basis compared with April 2019, as construction firms adapted to public health requirements such as improved on-site sanitation, physical distancing, and staggered work schedules.
Non-residential investment
Investment in the commercial sector plummeted 38.8 per cent to $3 billion in April compared with the previous month. During this time, non-residential construction was largely shut down in Ontario and Québec, while other provinces and territories allowed work to continue with strict public health measures in place. As a result, five provinces—including Manitoba (1.6 per cent), Saskatchewan (1.3 per cent), and British Columbia (0.9 per cent)—posted modest gains for the sector. British Columbia's increase in April followed five consecutive monthly declines.
The commercial component posted the largest decline (–49.4 per cent), with notable decreases in Ontario (–$905.3 million) and Québec (–$522.8 million). Saskatchewan, Nova Scotia, and British Columbia were the only provinces to post gains for this component.
The institutional component tumbled 22.2 per cent (–$247.5 million), with the largest decline in Québec (–$193.4 million). Conversely, modest gains were reported in British Columbia ($3.8 million).
The industrial component decreased 25.3 per cent to $664.4 million. Québec (–92.8 per cent) and Ontario (–18.7 per cent) contributed the most to the decline, while four provinces reported small gains.