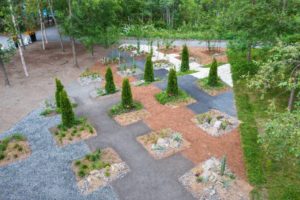 The 22nd International Garden Festival revealed new contemporary gardens and its annual theme. Magic Lies Outside is the annual theme that aims to bring people hope, promote creativity, and add colour to a world overcoming the global pandemic.
Five projects have been selected to be part of the festival: two from Canada and one each from the United States, France, and Sweden. They are added to the current gardens to form an open-air museum, thus offering a route of outdoor installations.
Here are the five new projects selected for the 2021 edition:
Miroirs acoustiques
Emmanuelle Loslier, landscape architect, Camille Zaroubi, landscape architect. Montreal, Quebec
Miroirs acoustiques consist of two parabolic reflectors (recycled aluminum antennas) planted in the ground. Positioned back-to-back, one points to the festival, an anthropogenic environment, and the other points to a forested area and the St. Lawrence.
The focal point is marked on the ground showing visitors where to stand. A hole in the centre of the sound mirrors encourages visitors to observe the environment on the other side of the installation, which places them in the optimum position to hear the focused sound waves.
Open Space
legaga (Gabriel Lemelin, Francis Gaignard, Sandrine Gaulin, architectural interns) Quebec City?
In Open Space, the walls of a typical house are opened out to create an open floor plan with endless possibilities. Visitors can walk up and down the walls, dangle their feet through the door, stand and chat around the staircase, or sit on the fireplace.
Choose your Own Adventure
Balmori Associates (Noémie Lafaurie-Debany, Javier Gonzalez-Campana, Simon Escabi, Chris Liao, Cristina Preciado, landscapers and urban planners) New York, NYThe garden challenges the still frame images posted on the web, reminiscent of the 18th-century picturesque. Its lack of fixity and hyper sensorial experiences are heightened through this simple matrix that forms the garden.
Hässja
Emil Bäckström, architect. Stockholm, Sweden
Hässja is an installation based on one of these nearly lost arts of working the soil—hay-drying structures. The three structures, made from the very plants surrounding them, are not only educational, but they are also formed and arranged in a way that enhances their inherited visceral qualities.
Porte-bonheur
David Bonnard, DE-HMONP architect, Laura Giuliani, landscaper, Amélie Viale, visual artist. Lyon, Villefranche sur Saone and Lissieu, France.
The installation invites visitors to throw open the door, cross thresholds, go outside and explore their surroundings. A reawakening through subtle distortion where a door—a daily symbol of lockdown—becomes something virtual and gradually disappears as the visitor wanders through the installation towards a new horizon.